News
Hot Shot's Secret Celebrates Ultimate Callout Challenge Win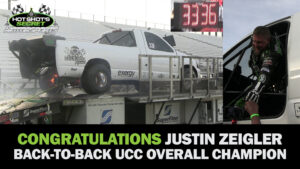 Hot Shot's Secret recently recognized Justin Zeigler, a Hot Shot's Secret-sponsored driver, for his recent Ultimate Callout Challenge (UCC) championship, the company announced.
The three-day event, in which Hot Shot's Secret is the sled pull title sponsor, event gold sponsor and the official fuel additive, pits 15 top competitors in a three-way points battle at the Lucas Oil Indianapolis Raceway Park.
Zeigler was named the overall winner again by acquiring 2723.595 total points, making him a back-to-back UCC champion. Derek Rose of DNR Customs came in second with 2648.045 points and Tony Burkhard of Dirty Hooker Diesel finished third with 2483.812 points. All three race teams secured their standing at UCC with the backing of Hot Shot's Secret products including Adrenaline R-Series Racing oils and fuel additives, the company said.
"I can't tell you how honored we are to work with the best teams in diesel motorsports. I was so excited to see Hot Shot's Secret sponsored teams finish in UCC's top three overall spots. Congratulations to Justin Zeigler and the team at Zeigler Diesel Performance, Derek Rose and the DNR Customs team, and Tony Burkhard and crew from Dirty Hooker Diesel," said Kyle Fischer, Hot Shot's Secret director of branding and promotions. "We are proud to play our part on these great race teams, and we appreciate their trust in us to protect their trucks with the best lubricants on the market."