News
Horsepower Wars Announces Rule Changes for 2020 $10K Drag Shootout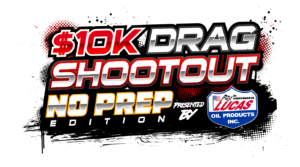 Horsepower Wars is bringing back the 2020 $10K Drag Shootout, presented by Lucas Oil, but with a few rules changes to match the No Prep Edition update.
Four teams will compete against each other to see who can build the quickest drag racing car over a period of 10 days, with a budget of $10,000 — which will consist of $3,000 in cash and a $7,000 Summit Racing Equipment gift card. During the competition, there will be surprise bonuses, competitions, and challenges that can assist, or hurt, the chances of each team's ability to build their vehicle and win. Once the teams complete their build it's time to go down to the track for heads-up racing where the team who proves they're the fastest takes home $10,000 and their finished car.
No Prep racing has been around for years and this season the Lucas Oil $10K Drag Shootout will be taking inspiration from this drag racing style. Track crews heat and scrape away all traces of tire rubber on the track, revealing an unforgiving bare street like surface. The ability to keep high horsepower beasts glued to an unprepped surface forces both the drivers and the builders to be at the top of their game. In previous seasons teams were required to use 275 drag radial tires. Taking into consideration the unruly track surface, the rules will be opened up to allow for larger sized slicks.
"It was really important that we continue to reinvent the $10K Drag Shootout," stated Scott Parker, Power Automedia's vice president of content. "The show should be every bit as exciting to the viewer as it is to us making it. In 2019 we had the return of Team Bigun – our Season 1 champs – as well as a few curveballs from the revamped $10K Olympics to the surprise Grenada wagon. Going to no prep style racing seemed a fitting way to change it up, while also attracting a whole new group of potential racers and builders."