News
Horsepower Wars Announces Broadcast Television Partnership with MAVTV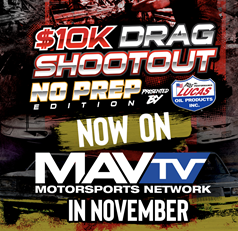 Power Automedia's "Horsepower Wars" has announced its official episode schedule for the third season of the $10K Drag Shootout presented by Lucas Oil, as well as a new partnership with Lucas Oil's cable and satellite television channel, MAVTV Motorsports Network.
$10K Drag Shootout consists of four teams competing against each other to see who can build the fastest drag racing car over a period of 10 days with a budget of only $10,000 — divided into $3,000 cash and a $7,000 Summit Racing Equipment gift card. Once the builds have been completed, the teams head down to the track for heads-up racing where the team who proves they're the quickest, takes home $10,000 and their finished car. This season, the Lucas Oil $10K Drag Shootout will be taking inspiration from No Prep drag racing events that have become increasingly popular over the years, which mimic street racing – using no traction compound to make the track sticky as with a traditional track event.
For the first time, Horsepower Wars will be partnering with MAVTV to broadcast $10K Drag Shootout 3 on cable television. MAVTV Motorsports Network is owned and operated by Lucas Oil Products. "We live for custom car builds and drag racing, it's in our DNA," said John Duff, head of content at MAVTV. "So when we were presented with the opportunity to partner with Horsepower Wars and broadcast Season 3 of their highly popular drag racing show with a no-prep twist, we knew it would be a perfect fit and blend nicely into our already impressive lineup of automotive content." MAVTV will be airing episodes of $10K Drag Shootout every Sunday with the first episode premiering on Nov. 1.
Viewers who do not have access to MAVTV will be able to watch the upcoming season on Horsepowerwars.com, as well as the Horsepower Wars Facebook page and YouTube channel every Tuesday starting Nov. 3.