News
Holley Now Offering Carburetor Training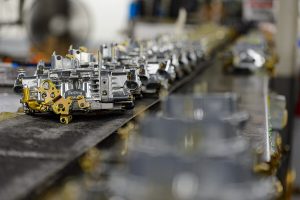 Holley is expanding its training courses with the edition of a carburetor training course, the company announced.
New for 2020, the course is intended to clear up general misconceptions about carbureted fuel systems, as well as give students a first-hand experience on tearing down, inspecting and re-assembling a model 4150 or model 4160 carburetor.
Class topics include history, current models, basics of carburetion, fuel inlet systems, idle systems, main metering systems, emulsion circuits, power enrichment, acceleration enrichment, chokes, tuning, troubleshooting, rebuilding tips and more.
Course registration is on a first-come first-serve basis. Students will be provided catered lunches as well as in-depth presentations/discussions by Holley's two training instructors.
Each participant will be granted the opportunity to tour Holley's Bowling Green, Kentucky, manufacturing facility and allowed a loaner carburetor for practical training and disassembly. Participants may bring their own carburetor, but it must be clean, dry and free of fuel/solvent fumes.
The course runs for two days and takes place at the National Corvette Museum from 8:00 a.m. to 5:00 p.m. each day. For more information on this course, as well as other training events, click here.