News
Holley Launches EV-Only Event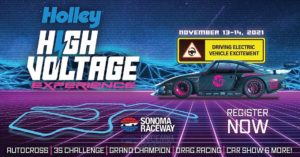 Holley is launching a new electric vehicle-only event, the High Voltage Experience, which is scheduled for Nov. 13-14 at Sonoma Raceway, in Sonoma, California, the company announced.
The event is for fully electric vehicles and will welcome all vehicles equipped with electric powertrains, whether originally installed or installed as a modification to an existing vehicle, the company said. The event is a two-day event that focuses on the performance-driving of fully electric vehicles.
The event schedule includes:
Autocross
3S Challenge
Drag Racing Classes
Road Course Challenge
Show-N-Shine Competition
Wine Country Cruise
A large vendor midway and more
Click here for more information.