News
Hennessey Performance Engineering Appoints New Director of Design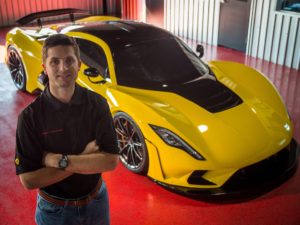 Hennessey Performance Engineering has announced that Nathan Malinick has joined the company as its new director of design. Malinick will report to founder and CEO, John Hennessey, and serve as director of design overseeing design direction for both Hennessey Performance Engineering (HPE) and Hennessey Special Vehicles (HSV).
As director of design, Malinick will be responsible for developing the company's design strategy, philosophy and principles in conjunction with the engineering and manufacturing functions, as well as the marketing and customer insights team.
"In many ways this is a dream come true," Malinick said. "All my life I've had an insatiable passion for cars and I can't think of a better place to express this love of cars than at Hennessey."'
Malinick, a graduate of Art Center College of Design in Pasadena, California, started his career at Embraer Executive Jets in 2018.
In 2013, he graduated from Auburn University with a degree in Industrial Design, being taught in the Bauhaus tradition. Immediately following this he began his studies at the Art Center College of Design as a Transportation Design major.
During his time at the Art Center, Malinick worked with companies like Chevrolet, Honda, Subaru, Karma, Genesis, Faraday Future and the CARLAB through internships and sponsored projects.
"We are excited to have Nathan on our team", said Hennessey. "Nathan's talent and passion will help our team continue to design and deliver some of the fastest and most exciting driver's vehicles in the world."