News
Hennessey Introduces Mammoth 1000 Supercharged RAM TRX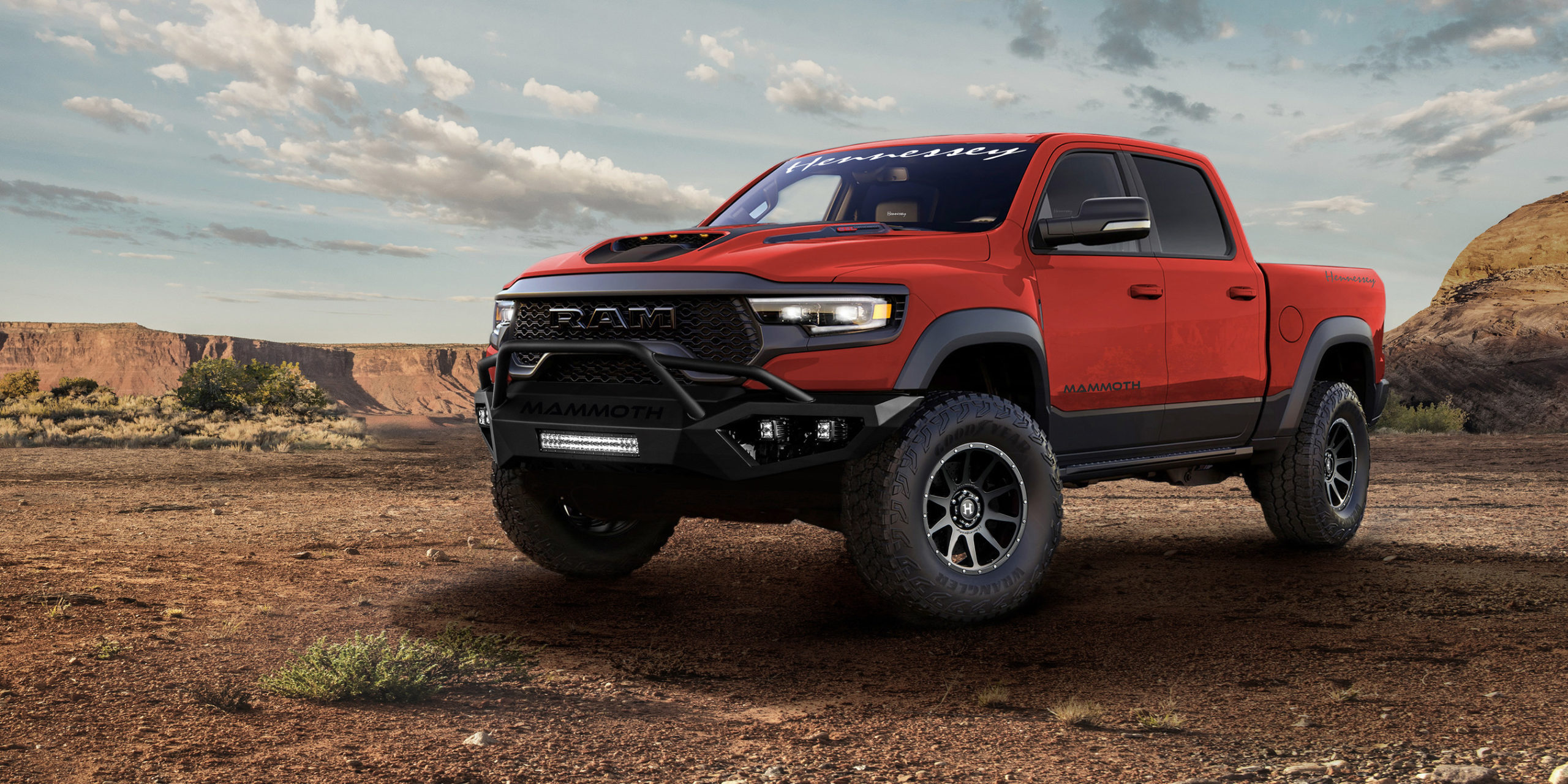 The Hennessey Performance Engineering (HPE) team recently introduced an all-new high-performance pickup: the limited-edition Hennessey Mammoth 1000.
The complete, turn-key vehicle is built on the 2021 RAM 1500 TRX. That performance-tuned pickup leaves the factory with a supercharged 6.2-liter V8, which is rated at 702 hp and 650 lb-ft of torque, an 8-speed automatic and permanent 4-wheel drive.
The Hennessey upgrades to the Mammoth 1000 include an upgraded supercharger, pulley upgrades, stainless-steel headers, high-flow exhaust componentry and new HPE calibration. Power output jumps to 1,012 hp and 969 lb-ft of torque, 310 hp and 319 lb-ft of torque more than the showroom stock TRX.
Complementing the powertrain enhancements is the Mammoth Off-Road Stage 1 package, complete with a 2.5-inch lift. This package includes a custom front bumper with LED lights, 20-inch Hennessey 10-spoke wheels, 35-inch off-road tires and a front suspension leveling kit. Other upgrades include a retractable electronic bed cover, and electronic fold-out steps.
"The RAM 1500 TRX is exciting in stock configuration, but I'm seeking extraordinary," said Founder and CEO, John Hennessey. "The Mammoth 1000 upgrades completely transform this impressive pickup into something astonishingly powerful, visually exciting, and indisputably unique."
Hennessey Mammoth 1000 truck production will be limited to just 200 units for the 2021 model year. Each vehicle will be fitted with serial numbered plaques.
Mammoth 1000 Specifications:
Power:
1,012 hp
969 lb-ft torque
Performance:
0-60 mph: 3.2 seconds
1/4 mile: 11.4 seconds @ 120 mph
Mammoth 1000 Upgrade Includes:
Upgraded 2.65L Supercharger System
Lower Pulley Upgrade
Upper Pulley Upgrade
Stainless-Steel Long Tube Headers
High-Flow Catalytic Converters
Upgraded High-Flow Fuel Injectors
High-Flow Mid Pipes
High-Flow Fuel Injectors
High-Flow Air Induction System
Crank Case Ventilation System
HPE Calibration Upgrade
Mammoth Custom Front Bumper
LED Lights in Front Bumper
Mammoth Rear Bumper
Retractable Electronic Bed Cover
Upgraded Electronic Fold-Out Steps
20-Inch Hennessey 10-Spoke Wheels
35-Inch Off-Road Tires
Front Suspension Leveling Kit
All Necessary Gaskets & Fluids
Professional Installation
Chassis Dyno Testing
Road Testing (up to 200 miles)
Hennessey Exterior Badge
Mammoth 1000 Exterior Badges
Serial Number Plaques
Limited edition of 1 of 200