News
HELLA to Expand U.S. Presence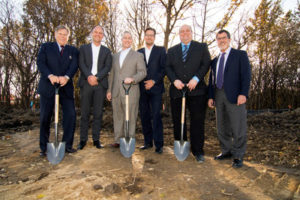 HELLA broke ground in November on a new administrative and technical center in Northville, Michigan. The modernized facility will be at least 115,000 square-feet. Once it opens at the beginning of 2019 it will address the company's continued growth as well as provide flexibility to adapt to dynamic marketplace shifts in the coming years.
HELLA's U.S. headquarters and technical center will replace its existing U.S. headquarters in Plymouth Township, approximately three miles away. Within the next two years, the number of employees there is expected to expand from currently 350 to approximately 400. The focus of activities is on developing electronics products and lighting technology solutions.
The new location also will house other company functions, such as purchasing, sales, information management, finance and controlling for the North American region.
"With the new location, we will create an important foundation for further pursuing our growth path in the North American market," said Steve Lietaert, president of HELLA Corporate Center USA. "We will have more space for required additional resources while also being able to further optimize the work environment for our employees."
The new location will implement a flexible and open office concept with modern office equipment, project rooms, meeting areas, lounge and cafeteria sections as well as fitness activities for employees. To bring the project to fruition, HELLA has partnered with Michigan-based REDICO as the developer, Biddison Architecture + Design and Amson Development.