News
Heartland Customs Unveils 1969 YENKO SPEC-Camaro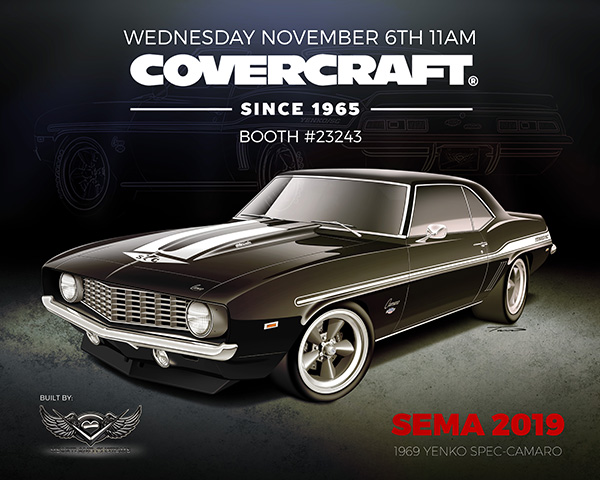 GM Car of the Year winner Heartland Customs, partnering with Covercraft, will unveil the 1969 YENKO SPEC-Camaro #001 at SEMA 2019. The two companies will team up again to display the vehicle in the Covercraft booth. The car is set to be unveiled on Wednesday, November 6 at 11 a.m. in booth #23243.
The SPEC Camaro Program is a concept developed by custom builder Jeff Page. SPEC Camaro is a program where a customer can choose their favorite year model of Camaro from 1967-1969 and the options to go with it. Heartland Customs will locate an original donor car and build the Camaro to 2019 specs while keeping it looking as original as possible. This is all done at a set cost so the customer knows exactly what the build will cost and can enjoy the process. These cars are built in multiple option levels just like GM had it structured originally. Base model, Super Sport, Z/28 and even the mighty YENKO.  All YENKO models are Officially Licensed by GMCI and come with a YENKO Letter of Authenticity.
"We are very excited to again display a car in the Covercraft booth at SEMA 2019. This partnership has greatly benefited both companies over the past few years and given both companies a venue to show off their amazing products jointly," says Jeff Page, CEO of Heartland Customs.
YENKO SPEC-Camaro #001's design starts with the custom chassis that was manufactured by The Roadster Shop in Mundelein, IL.  The exterior has the fit and finish from Heartland Customs and YENKO badging. Step into the cabin and you will discover a retro OEM inspired custom interior with Moore and Giles leather, one-piece Alcantara headliner and original houndstooth cloth appointments by the craftsmen at Sculpt Garage in San Marcos, TX.  From the original looking gauges with LED backlighting and LCD screens to the factory look stereo with Bluetooth and hands free calling, every detail has been planned and executed to perfection.
"Covercraft has featured the amazing Corvettes that Heartland Customs produces, and we are thrilled to host their YENKO SPEC-Camaro #001 this year. Heartland won the GM Design Award at last year's SEMA Show and I won't be surprised if this incredible Camaro brings home some hardware this year," comments Mark Korros, president & CEO of Covercraft.
Covercraft has featured several Heartland Customs vehicles in previous years at SEMA, including last year's GM Design Award-winning Corvette. The partnership of the these two Oklahoma-based companies has created one of the most anticipated unveilings at the SEMA Show year after year.