News
Harter Becomes VMP's New Director of Sales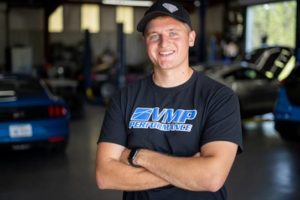 VMP has announced Chuck Harter as the company's new director of sales.
Harter is now responsible for leading and managing all VMP sales efforts, including relationship management within the industry, on-boarding new product lines, training internal and external sales teams, as well as account management. He is focused on expanding the VMP brand of products and services through the retail experience for customers and vendors.
"Harter will serve this position well, building and expanding upon the trust our customers have placed in VMP over the years," said Rebecca Starkey, owner of VMP Performance and director of customer experience. "I look forward to him leading the ongoing sales initiatives and product expansion of VMP Performance."
Harter already has 10 years of sales and training experience. He most recently served as territory manager with R&R Marketing Consultants Inc. where he represented manufacturers in the automotive performance and vehicle accessory industry throughout the Southern U.S. In this role, Harter led training programs for product installation at automotive shops, managed product sales, and inventory distribution.
"VMP is a valued brand trusted by high-performance automotive enthusiasts all over the world," Harter said. "I look forward to strengthening current customer relationships while expanding VMP's product lines and services to meet the needs of our customers and vendors."
Harter, a car enthusiast himself, currently drives a 2019 Velocity Blue Mustang GT and is an administrator of the Mod Motor Mustangs Facebook group, which has more than 460,000 followers.
VMP operates a modern eCommerce business focused on aftermarket automotive upgrades with customers all over the world. Headquartered in New Smyrna Beach, Florida, on a 12-acre campus, VMP offers custom tuning and installation services, in addition to its line of VMP performance parts and supporting components from quality manufacturers.