News
Half of HROT Elite Eight Set for PRI Show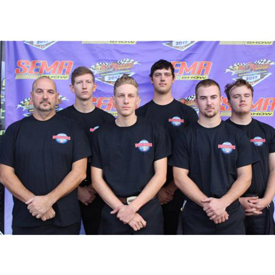 The first half of the Hot Rodders of Tomorrow Engine Challenge 2017 Dual Championship is in the books.
The first half of the competition happened at the SEMA Show in Las Vegas. It included 27 teams which came from coast to coast to battle to become one of the top four teams to move on and compete in the Elite Eight playoffs for the 2017 National Championship at the Dec. 6-9 PRI Show.
Team Howards Cams, from Lakeshore High School in Stevensville, Michigan, came in first place with an average time of 19:07. They also had the best time of the week at 17:44 and were the only team to have all three runs below the 20-minute mark.
Other teams moving on to the Elite Eight competition at the PRI Show are:
Team Fragola Performance Systems from Fremd High School in Palatine, Illinois, came in second place with an average time of 20:56; Team Aeromotive of Eastern Oklahoma Technology Center in Choctaw, Oklahoma took third place with an average time of 21:52;
and Team Fel-Pro, Tulsa Technology Center from Broken Arrow, Oklahoma Came in fourth place with an average time of 23:08.
These top four teams from the SEMA Show and the top four teams from the PRI Show will then compete head-to-head to earn the first place title of the 2017 Hot Rodders of Tomorrow Dual Championship and win scholarship vouchers ranging from $6,500 to $10,000 from Universal Technical Institute (UTI), School of Automotive Machinists (SAM TECH), and Ohio Technical College (OTC).
The Elite 8 battle will start at 1:30 p.m. EST on Dec 8, and continue to Dec. 9.
"Competing in the HROT competition has made it more affordable to go to college," said Mitch Alsbro, a Lakeshore High School graduate now going to UNOH.
Alsbro wants to continue his education and stay in the high-performance field. While teammate Cole Griffiths, who also goes to UNOH, said, "HROT showed me how much team work means, that everyone has to do their part. It has improved my communication, problem solving and critical thinking skills."
Five students make up each HROT team. They disassemble and reassemble a traditional small block Chevy outfitted with the latest aftermarket parts. Teams must properly disassemble the engine including the removal of all eight pistons, then reassemble it using correct torque and valve adjustment.