News
Grand National Roadster Show Cruises Toward Platinum Legacy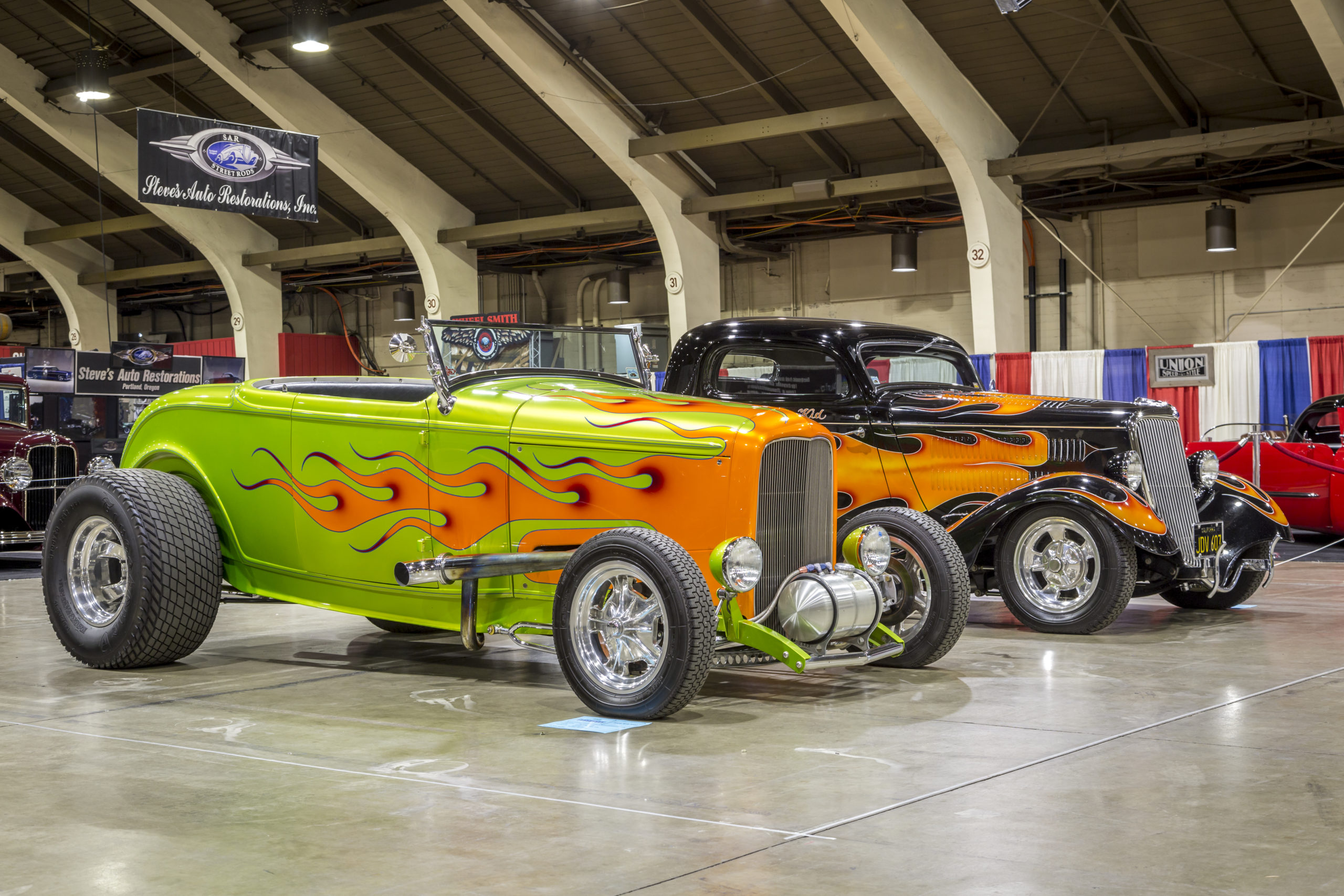 For the 70th consecutive year, the best hot rods, customs, lowriders and motorcycles from every corner of America will visit Southern California in January for the Grand National Roadster Show. More than 400 awards-including America's Most Beautiful Roadster-are up for grabs at the show's platinum-anniversary event, set for Jan. 25-27 at the Fairplex in Pomona, California.
The Grand National Roadster Show, founded in 1949, is the longest continually running indoor car show in the world. This year's event will feature more than 1,000 show cars and a special tribute to Chip Foose, who will be honored as the Builder of the Decade. An array of Foose's builds will be included in a special exhibition showcasing "the best and most famous Model A Ford Hot Rods from the past 90 years, dozens of top parts vendors, pinstriping demonstrations and more," according to show organizers.
The show will also feature 13 hand-crafted roadsters from around the country competing for the highly coveted America's Most Beautiful Roadster (AMBR) award. Competitors include 1932 and 1933 Fords, Model As, Phaetons and other coach-built open cars crafted by legendary car builders like Adam's Hot Rods, Dominator Street Rods, Moal Coachbuilders and Pinkee's Rod Shop. The winner will have their name engraved on the monolithic 9-foot tall perpetual trophy and will receive a $10,000 prize.
Previous AMBR award winners include iconic builders like Boyd Coddington, George Barris, Chip Foose, Blackie Gejeian, Troy Ladd and 2018 winner Scott Bonowski of Hot Rods and Hobbies.
The 70th anniversary show is also set to honor 90 years of the Ford Model A with more than 100 of these iconic roadsters, coupes, sedans, tudors and pickups on display. Special highlights of the Model A display will include seven previous AMBR award winners, the Eddie Dye roadster, Chrisman Brothers sedan and Elvis Presley's roadster from "Loving You." In addition to this display of Model A's, numerous Bonneville and NHRA record holding vehicles will be featured throughout the show.
World-renowned hot rod builders-such as Steve Strope, Troy Ladd, Jimmy Shine, Troy Trepanier, Bobby Alloway and Roy Brizio-also are set to attend this year's show, with cars on display. There will be car club displays from The Road Kings, Lifestyle, Inland Mopars, German Folks and more.
Attendees will be invited to take part in the drive-in show on Saturday and Sunday, where more than 800 cars will be placed outside the buildings throughout the Fairplex grounds. The show will also feature the Pinstriper Charity Auction in building four, where a group of the most talented pinstripers in the country will be selling their work and striping live, with all proceeds set to go to Drive Toward a Cure, benefiting Parkinson's Disease research, sponsored by PPG.
Show hours are as follows:
Jan. 25-Noon to 8 p.m.
Jan. 26-10 a.m. to 8 p.m.
Jan. 27-10 a.m. to 6 p.m.
General admission tickets cost $25 per day; junior admission tickets (6-12 years old) are $10 per day, and children under five enter free. Parking is $12 and the entrance to the lot is located at Gate 9 off White Avenue.