News
Goodguys Releases 2023 Event Schedule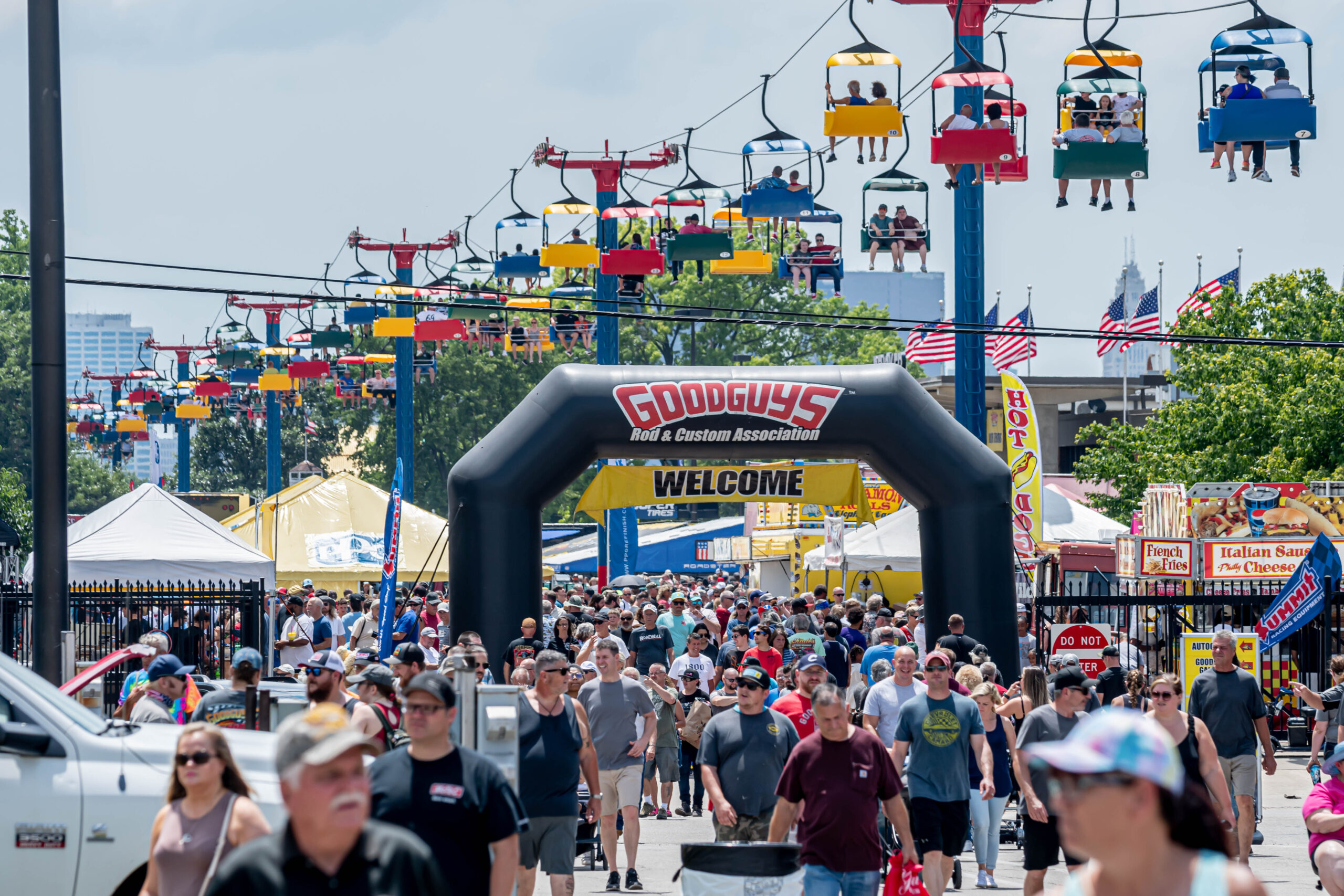 Goodguys Rod & Custom Association has revealed its 2023 show schedule, which will also include a new series of events held in a two-day format, the organization announced.
The upcoming 40th-anniversary 2023 Goodguys season will feature 12 three-day National events and two two-day Get-Togethers in Pleasanton, California, Goodguys' original headquarters. All 14 events are scheduled as close to their traditional weekends as possible, with no venue changes for the upcoming season, the organization said.
Each of the 14 events will include burnout competitions, kids' zones, live entertainment and more while showcasing hot rods, muscle cars, customs, classics and trucks from 1998 and prior, Goodguys repersentatives said. Additionally, all 12 National events will incorporate All-American Sunday, welcoming all-American-made or -powered vehicles of all years into the event.
In addition to the 14-event schedule, 2023 will see the addition of an all-new show format for Goodguys which will include a series of two-day events to be hosted in additional cities across the United States. The all-new series of events aims to increase accessibility to more automotive enthusiasts across America and provide an opportunity for participation by local communities, car builders, car clubs, enthusiasts and more, the event organizers said. Individual show features will include cruising, gatherings at local points of interest, build shops and collections, live music, parties and more. Dates, cities and details for the new localized event series will be announced in the coming months.
"We're excited to get back to the roots of hot-rod gatherings and really interact with these communities on a deeper level," said Andrew Ebel, COO of Goodguys. "Curating our list of large-scale events in 2023 allows us to spend our energy expanding into some huge car markets that we haven't previously been able to reach and really welcome more of our membership and fanbase into the Goodguys family."
Additionally, the Summer Get-Together in Pleasanton, California, the Great Northwest Nationals in Spokane, Washington and the So-Cal Nationals in Del Mar, California, have been removed from the event calendar.
13th LMC Truck Spring Lone Star Nationals
Mar. 10-12, 2023
Texas Motor Speedway — Fort Worth, Texas
13th FiTech Fuel Injection Spring Nationals presented by Grundy Collector Car Insurance
Mar. 17-19, 2023
WestWorld of Scottsdale — Scottsdale, Arizona
39th Grundy Collector Car Insurance All American Get-Together
Mar. 25 & 26, 2023
Alameda County Fairgrounds — Pleasanton, California
22nd Meguiar's Del Mar Nationals
Mar. 31-April 2, 2023
Del Mar Fairgrounds — Del Mar, California
8th Griot's Garage North Carolina Nationals
April 21-23, 2023
North Carolina State Fairgrounds — Raleigh, North Carolina
17th BASF Nashville Nationals
May 19-21, 2023
Nashville Superspeedway — Lebanon, Tennessee
32nd Speedway Motors Heartland Nationals presented by BASF
June 30-July 2, 2023
Iowa State Fairgrounds — Des Moines, Iowa
25th Summit Racing Nationals presented by PPG
July 7-9, 2023
Ohio Expo Center — Columbus, Ohio
35th Griot's Garage Pacific Northwest Nationals
July 28-30, 2023
Washington State Fair Events Center — Puyallup, Washington
36th RaceDeck West Coast Nationals
Aug. 25-27, 2023
Alameda County Fairgrounds — Pleasanton, California
25th Grundy Collector Car Insurance Colorado Nationals presented by Griot's Garage
Sept. 8-10, 2023
The Ranch Events Complex — Loveland, Colorado
30th Summit Racing Lone Star Nationals
Sept. 29-October 1, 2023
Texas Motor Speedway — Fort Worth, Texas
33rd Fuel Curve Autumn Get-Together
Nov. 11 & 12, 2023
Alameda County Fairgrounds — Pleasanton, California
26th Speedway Motors Southwest Nationals
Nov. 17-19, 2023
WestWorld of Scottsdale — Scottsdale, Arizona