News
Go Rhino Products Now Available at Turn 14 Distribution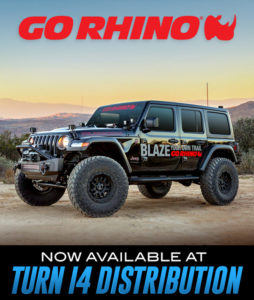 Performance parts distributor Turn 14 Distribution has expanded its assortment of truck, SUV and Jeep accessories with the addition of Go Rhino to its line card.
"Go Rhino's special attention to the Jeep market allows Turn 14 Distribution to further our level of service to customers who specialize within that field. Our stock emphasizes the company's side steps, which are sold as kits, with specific brackets and bar lengths per vehicle application. When paired with our proprietary kitting system, Turn 14 Distribution can increase application coverage by as much as 20% with only a few steps and bracket kits in stock. Go Rhino's use of non-slip Super Grip rubber pads for its steps is just one example of the high standards held for all products that the company manufactures," said Alex Lesslie, divisional purchasing manager, Turn 14 Distribution.
Go Rhino is a family-owned and operated company that has developed, designed and manufactured aftermarket automotive accessories and developed its first modular grille guard over 30 years ago.
Go Rhino's manufacturing facility is staffed with talented, skilled, and passionate personnel who build each Go Rhino product to the highest standards while utilizing the latest technology and processes, the company says. As a result, the company has earned ISO9001 certification.