News
Go Rhino Debuts Wrangler JL Running Board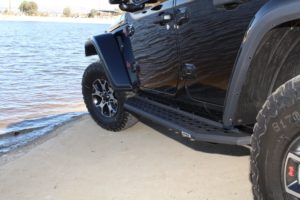 Go Rhino's is offering its RB20 running boards for the 2018 Jeep Wrangler JL. The RB20 release is the first of a complete line of steps, bumpers and accessories coming in the next few weeks, according to the company.
The RB20 running boards are a great looking complement to the JEEP Wrangler JL, with its aggressive styling and wide step platform, according to Go Rhino. Add the optional RB series drop steps for easy access.
The tapered board-constructed from galvanized steel for additional corrosion protection-offers an approximately 7-inch wide stepping area. It is available in two finishes: protective bedliner coating or textured powder coat for corrosion, impact and abrasion resistance
The product includes mounting brackets for a simple, no-drill installation.