News
GM Gains Access to Tesla Supercharger Network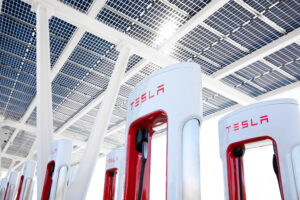 General Motors is partnering with Tesla to integrate the North American Charging Standard (NACS) connector design into its EVs beginning in 2025, which will expand access to charging for GM EV drivers at 12,000 Tesla Superchargers, the companies announced.
"Our vision of the all-electric future means producing millions of world-class EVs across categories and price points, while creating an ecosystem that will accelerate mass EV adoption," said GM Chair and CEO Mary Barra. "This collaboration is a key part of our strategy and an important next step in quickly expanding access to fast chargers for our customers. Not only will it help make the transition to electric vehicles more seamless for our customers, but it could help move the industry toward a single North American charging standard."
The Tesla Supercharger Network will be open to GM EV drivers starting in 2024 and will initially require the use of an adapter. Beginning in 2025, the first GM EVs will be built with a NACS inlet for direct access to Tesla Superchargers without an adapter. In the future, GM will make adapters available for drivers of NACS-enabled vehicles to allow charging on CCS-capable fast charge stations.
GM will also integrate the Tesla Supercharger Network into its vehicle and mobile apps, the company said. This will complement the Ultium Charge 360 Network of charging stations, as well as additional charging stations GM makes available through existing integrations with other charging networks.