News
Gentex Opens Grand Rapids Technology Hub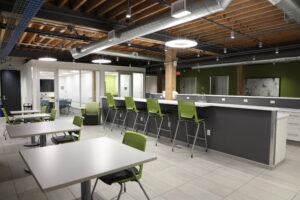 Gentex Corporation has opened a new technology hub in downtown Grand Rapids, Michigan, designed to help the company support, attract, and retain engineering and software talent, the company announced.
The new technology hub is located in downtown Grand Rapids. Gentex is leasing the space, which is designed to support over 100 team members, with modern workstations, conference rooms, hoteling spaces, and common areas, the company said. In addition, workers will have access to a tenant-only fitness center, conference facility, and bike room.
"Gentex continually needs top talent, especially engineering and software technologists who can support our growing business and expanding product portfolio," said Neil Boehm, Gentex's Chief Technology Officer. "Gentex is best known for automotive electronics, but we continue to grow our capabilities in vision systems, sensing, AI development, biometrics, home automation, and more. If you like the idea of working in a vibrant city center for a diversified, highly successful, and resource-rich technology company, then check us out!"
In May, Gentex opened a satellite production facility in the Madison Square neighborhood of Grand Rapids, the company said. The new facility produces electronic sub-assemblies, and when fully operational, will operate two shifts and employ 50 team members engaged in light assembly, warehousing, and logistics.
Additionally, the company has also launched Spanish-speaking assembly lines to provide expanded employment opportunities for West Michigan's growing Hispanic community, the company said, and broke ground on a childcare and preschool designed to provide its employees with access to on-site daycare.