News
GEARWRENCH Announces Stewart-Haas Racing Sponsorship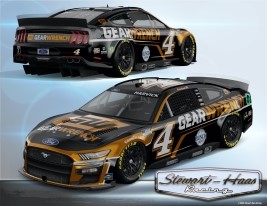 GEARWRENCH recently was named the Official Tool Partner of Stewart-Haas Racing (SHR) beginning with last weekend's Daytona 500, the company announced.
SHR's team of technicians will lean on GEARWRENCH to provide an edge in preparing and maintaining the No. 4 Ford Mustang for driver Kevin Harvick, the company said.
GEARWRENCH will serve as the car's primary sponsor for five races this season. Additionally, SHR's 140,000-sq.-ft. headquarters will be known as the GEARWRENCH Garage, outfitting the SHR team with a wide range of hand tools, tool storage, lighting and shop-assist equipment, the company said.
"To give our car the best chance to succeed, we really do need the best tools," said Robert 'Cheddar' Smith, car chief for the No. 4 Ford Mustang. "We need everything in our garage to give us an edge in order to compete for a championship, and we have that with GEARWRENCH. They're as competitive at making tools as we are at racing, and that passion for improvement is how you win."
"There's no better proving ground for our tools than the racetrack and there's no bigger stage than the Daytona 500," said Janet Bolin, brand manager, sports partnerships, GEARWRENCH. "No one has higher standards for our tools than we do, so working with SHR helps push us to go further than we ever have before. It's an exciting time for the brand and our loyal customers."