News
GEARWRENCH Aligns with Schmidt Peterson Motorsports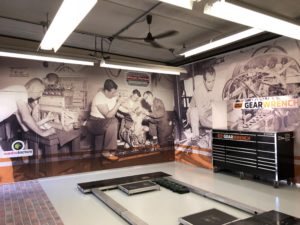 Verizon IndyCar Series team Schmidt Peterson Motorsports (SPM) has partnered with tool brand GEARWRENCH. In addition to becoming the presenting sponsor of the team's iconic Indianapolis Motor Speedway garage design, which is in its third year, GEARWRENCH becomes the Official Hand Tool brand of Schmidt Peterson Motorsports in a multi-year partnership. The announcement was made during a special garage design unveiling.
The GEARWRENCH partnership and the tools the brand is famous for will be a valued benefit to the 20 technicians at Schmidt Peterson Motorsports, according to the team.
"This is an extremely exciting opportunity for the GEARWRENCH brand," said John Constantine, senior vice president and president of North American Hand Tools for the Apex Tool Group. "We are thrilled to be partnering with Schmidt Peterson Motorsports, their drivers, and their top mechanics. Motorsports is a natural fit for GEARWRENCH and this new alignment with Schmidt Peterson Motorsports holds tremendous upside potential for both organizations."
GEARWRENCH offers a wide assortment of over 4,100 professional automotive and industrial hand tools, each designed for unprecedented speed, strength, and access.
"Everyone at Schmidt Peterson Motorsports is hugely excited to welcome GEARWRENCH to the team as our Official Hand Tool Partner. GEARWRENCH is a brand that understands the needs of the talented men and women using their products, and its history in motorsport speaks for itself," said Jon Flack, president of Schmidt Peterson Motorsports. "We couldn't be happier for this opportunity to bring them onboard for years to come."