News
Garrett Showcases Career Opportunities for Female Professionals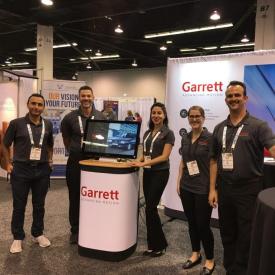 Members of the Garrett Motion engineering and HR teams attended the Society of Women Engineers (SWE) WE19 conference in November to highlight the company's career and professional development opportunities for women.
Each year, the SWE hosts one of the world's largest recruitment and networking events for women, bringing more than 14,000 attendees from all over the world. Activities included workshops, lectures, and the career fair filled with recruiters from top engineering companies.
The Garrett team highlighted full-time and internship opportunities across mechanical, electrical, industrial engineering, to hundreds of visitors to the booth during the two-day career expo in Anaheim, Calif.
Sandra Toro, Garrett product assurance leader for Commercial Vehicles, was one of the Garrett engineers representing the company. "As I walked into the 2019 SWE conference, I became overwhelmed with excitement to see hundreds of companies from all sectors coming together in the same place and time for the common goal of recruiting female engineering talent," said Toro. "At that moment I could have not been more proud to not only be there representing Garrett, but to also be one of those engineering females myself."
Garrett Materials Engineer Laura Diers also found the event inspiring and educational for both herself and attendees.
"It was nice to see women who were enthusiastic about our technologies, while also getting people excited who didn't know about us before," Diers explained. "It's important for women – especially the young college students who were the main attendees – to see other women in the jobs they are hoping to get.  The number of women exhibitors at the event was really surprising and exciting."