News
Galpin Auto Sports Partners with Apparel Brand on Land Rover Builds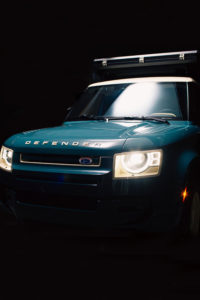 Galpin Auto Sports (GAS) and UNDEFEATED, a Los Angeles-based apparel brand, collaborated on two custom 2021 Land Rover Builds that debuted at the LA Auto Show in November 2021. The California vehicle customizer recently revealed full details of the two builds.
The Land Rover Defender 90 P400 First Edition, rendered in Jaguar Green with an Ivory roof, is equipped with parchment leather upholstery, an interior blackout package, custom trunk storage unit and a roof rack with a surfboard attachment.
The 2021 Land Rover Defender 110 P400 SE's exterior is Jaguar Navy with an Ivory roof and contains a parchment leather and navy houndstooth insert interior, Nomad Kitchen Co. sink and prep table pullout, domestic refrigerator pullout and a three-drawer rear cargo area storage unit built specifically for camping trips.
See the full specifications of each build below.
Vehicle Specs: Undefeated X Galpin Land Rover Defender 90
Base Vehicle:
2021 Land Rover Defender 90 P400 First Edition
Interior
Upholstery: Galpin Auto Sports Reupholstery Parchment leather with "beach towel" inserts.
Trim: Interior blackout package
Additional Equipment: Custom trunk storage unit with biometric safe
Wheels and Tires
Wheel Manufacturer/Model: Custom "Steelie" Style Forgiato
Wheel Color: Ivory
Front Wheel Size: 18"x X"9
Rear Wheel Size: 18" x X"9
Tires: Military-style, off-road Goodyear Wrangler DuraTrac
Front Tire Size: Size 255/65R-19
Rear Tire Size: Size 255/65R-19
Suspension
Front Suspension Type: ¾-1" lift kit
Rear Suspension Type: ¾-1" lift kit
Exterior
Paint Color: Galpin Auto Sports Custom Paint color change to Jaguar Green with ivory roof
Additional Exterior Equipment
Roof rack with surfboard attachment
Custom "Undefeated 90" rear badge and "Galpin Motors" oval badge
Custom hitch-mounted lockbox
Road shower
Load assist surfboard rack
Awning
Vehicle Specs: Undefeated X Galpin Land Rover Defender 110
Base Vehicle:
2021 Land Rover Defender 110 P400 SE
Interior
Upholstery: Galpin Auto Sports Reupholstery to Parchment leather with navy houndstooth inserts.
Trim: Interior blackout package
Additional Interior Equipment: Nomad Kitchen Co. slide out kitchen with prep table, sink and camp stove, Dometic refrigerator with slideout, 3 drawer rear cargo area storage unit
Wheels and Tires
Wheel Manufacturer/Model: Forgiato Custom "Steelie" Style
Wheel Color: Ivory
Front Wheel Size: 18" X"9
We Rear Wheel Size: 18" X"9
Tires: Military-style, off-road Goodyear Wrangler DuraTrac
Front Tire Size: Size 255/65R-19 Goodyear Wrangler DuraTrac
Rear Tire Size: Size 255/65R-19 Goodyear Wrangler DuraTrac
Suspension
Front Suspension Type: ¾-1" lift kit
Rear Suspension Type: ¾-1" lift kit
Exterior
Paint Color: Galpin Auto Sports Custom Paint color change to Jaguar Blue with ivory roof
Additional Exterior Equipment:
Full length Roof rack
Rooftop tent
Roof-mounted 270 degree awning
Custom "Undefeated 110" rear badge and "Galpin Motors" oval badge
Custom hitch-mounted lockbox