News
'Future Classic Car Show' to Open Arizona Auction Week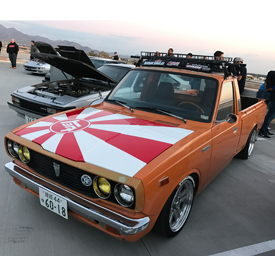 ClassicCars.com is hosting the Third Annual Future Classic Car Show on Jan. 15 in Scottsdale, Arizona. The show is set to start at the beginning of Arizona Collector Car Week and will feature vehicles from model years 1975 through 2018 in domestic, import and European categories.
The show returns to the rooftop of the Scottsdale Quarter shopping district, although it will take up more space with the addition of the fifth floor of the structure. More than 150 future classics are expected to be on display, with multiple vendors, a DJ and food available.
"Every year this show surpasses our wildest expectations," said Roger Falcione, CEO of ClassicCars.com. "We are thrilled that more and more people are signing up to display their future classics as well as the number of attendees interested in seeing these great cars. The Future Classic Car Show is the best way to kick-off Arizona Collector Car Week."
The Future Classic Car show employs Concours-level judges for its vehicle awards, according to organizers. Awards will be handed out at 7:30 p.m. for best of show and to the best vehicles in the 1975-1994 (import, domestic, Euro), 1995-2005 (import, domestic, Euro) and Instant Classic 2006-2018 (import, domestic, Euro) categories. By popular demand, a new award will be introduced this year for best modification.
"The Future Classic Car Show has quickly become a 'must-attend' event, and an integral part of Arizona Collector Car Week," said Sal Akbani, president and CEO of Gateway Classic Cars, which is partnered with ClassicCars.com to put on the event. "This unique program provides us with an incredible opportunity to reach a broad range of collectors and enthusiasts alike.  We're honored to present this with our great partners at ClassicCars.com."
The Future Classic Car Show is set for 5-8 p.m. at the Scottsdale Quarter rooftop parking deck and the fifth floor on Jan. 15. For more information, visit futureclassiccarshow.com.