News
Forgeline Marks 25th Year, but Company Story Begins in '70s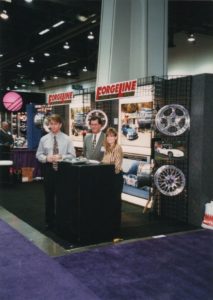 This year is a milestone for custom wheel manufacturer Forgeline Motorsports, as it reaches its 25th anniversary in business.
Forgeline Motorsports is a 100-percent family-owned business-managed by twin brothers Dave and Steve Schardt-located in Dayton, Ohio.
Steve Schardt, global sales manager, founded Forgeline in 1994 to address a need within the American road racing market for a custom, made-to-order forged wheel that was engineered for racing applications, and made in the U.S. Forgeline continues to serve the highest levels of road racing 25 years later, and the company's reach has grown to include high-end street applications, according to company officials.
"Our goal when we started Forgeline in 1994 was to create high-quality American-made racing wheels, and we've exceeded all of our original expectations," said Forgeline President Dave Schardt. "Today, we're a much larger operation, but we're still just as dedicated to quality and performance as we were back then."
The Forgeline story can be traced way back to 1970 when the Schardt brothers' father, Jim Schardt, purchased Dayton Wire Wheel and began turning it into an extremely successful operation. The Schardt brothers grew up working in the Dayton Wire Wheel factory. On the weekends, they went with their dad to various racetracks to campaign Porsches and Chevrolet Corvairs in multiple amateur racing series throughout the 1970s and 1980s.
As young adults in the 1990s, the Schardt brothers had developed a passion for racing and for the wheel industry. Steve served as a club-level driving instructor, while Dave owned and operated a regional wheel distribution business called The Wheel Source and was competing in the Speedvision World Challenge racing series, which is the precursor to today's Pirelli World Challenge series.
Recognizing that serious American road racers needed a domestically-produced high-quality wheel option, the Schardt family teamed up to launch Forgeline whose initial product line consisted of a single two-piece forged wheel called the RS.
The RS wheel proved successful. In 1995, it helped RealTime Racing's PD Cunningham win a World Challenge class championship, according to Forgeline. Soon thereafter, it became the wheel of choice for at least half of the World Challenge field.
Today in 2019, Forgeline manufactures more than 120 wheel models for both the race track and the street.