News
Foreign Affairs Motorsport Partners with RaceChip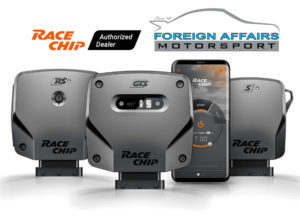 Foreign Affairs Motorsport is now an authorized dealer and installation specialist for RaceChip products.
RaceChip is a German ECU tuner specializing in engine management software upgrades and currently offer three ECU upgrade options: the S, RS and GTS.
The S option has five fine tuning mappings that are capable of increasing both hp and torque up to 20%. The RS option has six fine tuning mappings, increases hp and torque up to 25%, and can be controlled using an app by the driver. The GTS option has a total of seven fine tuning mappings and increases hp and torque up to 30%.
The company says these ECU upgrade options also boost fuel economy by around 15%.
The RaceChip upgrades are available through Foreign Affairs Motorsport for a range of makes and models, including Porsche, BMW, Mercedes, Audi, VW and others.