News
Ford Collaborating with MANN+HUMMEL on Air Purifiers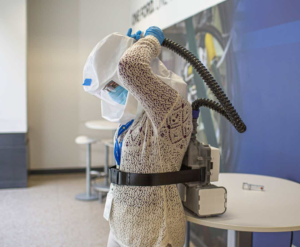 MANN+HUMMEL will collaborate with Ford Motor Company in the rapid development and production of powered air purifier respirators, the companies announced.
MANN+HUMMEL, the parent company of WIX Filters, will supply the HEPA filter in the Ford-produced respirator, which will be worn by healthcare workers when treating COVID-19 patients. To date, MANN+HUMMEL produces, tests and ships 3,500 HEPA filter elements per day for this application, from their manufacturing sites in the USA and Germany. According to Ford, the automotive manufacturer is able to produce 100,000 respirators over the next two months.
The respirators are equipped with class H13 HEPA filters according to EN 1822 or the international norm ISO 29463. These filter classes are also used in operating rooms and in the pharmaceutical industry to reliably remove germs, viruses and microbiological contamination from the supply air.
"These critical times call for extraordinary actions and cooperation. Using our state-of-the-art HEPA filter production, in-house cleanroom test labs, and valued relationships with partners around the globe, we can blend our talents and expertise to help people in need. Our global teams have been working tirelessly to adapt to meet critical needs, with rapid development and time to market. I couldn't be more proud of our team's efforts to make a difference," said Kurk Wilks, president & chief executive officer of the MANN+HUMMEL Group.