News
Ford CEO Jim Farley Receives Carroll Shelby Spirit Award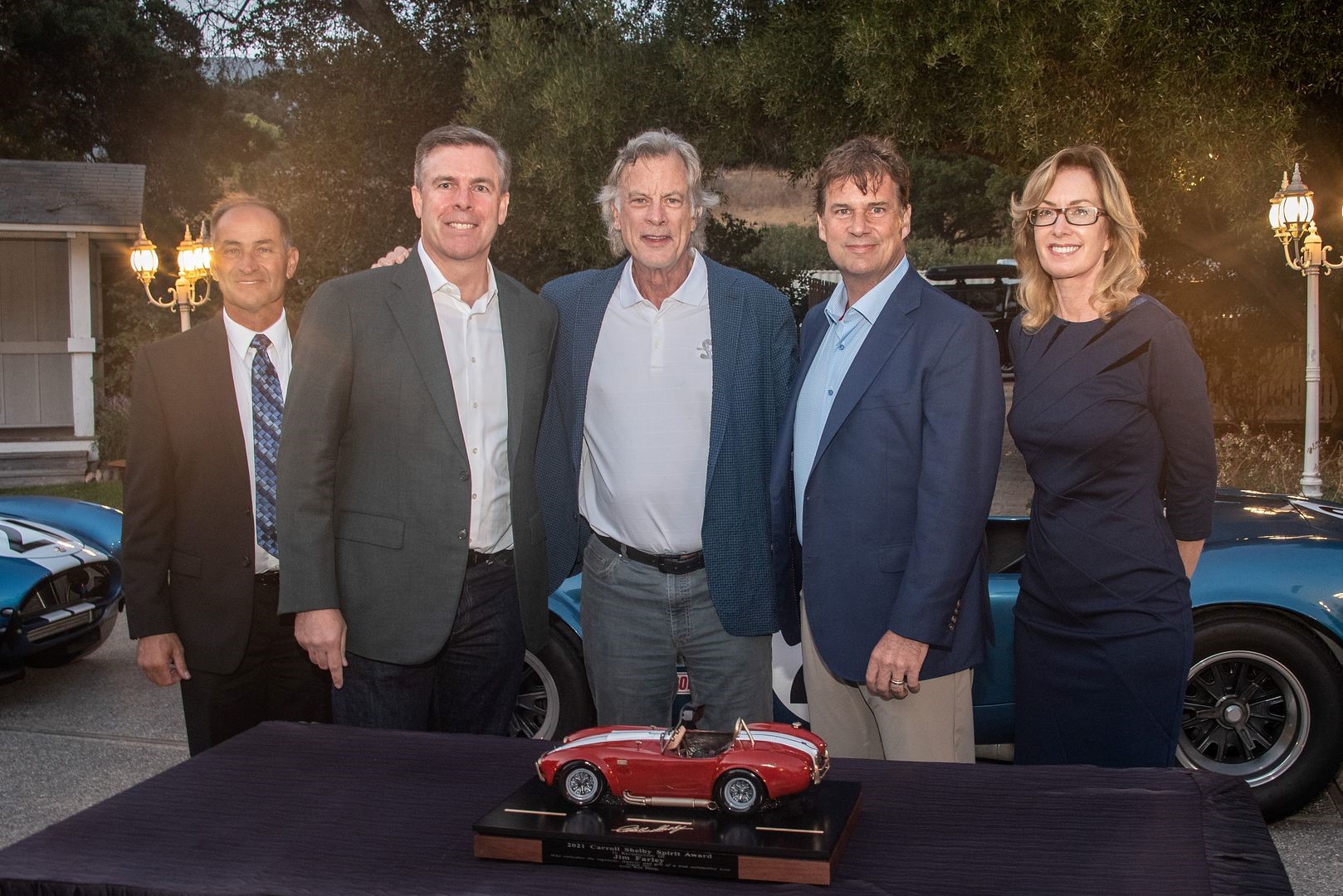 Carroll Shelby International honored Ford Motor Company CEO Jim Farley by presenting him with the "Carroll Shelby Spirit" award, the company announced. CSI board members Neil Cummings and Aaron Shelby gave Farley the award at the Team Shelby VIP Experience dinner last month in Carmel Valley during Monterey Collector Car Week.
"Carroll Shelby was a tenacious competitor with interests in auto manufacturing, racing, aviation, philanthropy and more," said Neil Cummings, Co-CEO of Carroll Shelby International and CEO of Carroll Shelby Licensing. "He was completely committed to winning and surrounded himself with people who matched his drive for success. Everyone who has received this award, including Jim Farley, exhibits those same winning traits."
Past award recipients include Bob Bondurant, Allen Grant, Edsel B. Ford II, Parnelli Jones and Dan Gurney. During his award acceptance, Farley said, "Looking at the list of previous award winners, I'm humbled to join the roster. You've challenged me to live up to the passion that Carroll exhibited, and that you continue in the Shelby tradition."
Since joining Ford Motor Company in 2007, James "Jim" D. Farley, Jr., has risen to president and chief executive officer. He serves as a member of the company's board of directors and represents Ford on the U.S. China Business Council Board of Directors. Farley also was appointed co-chair of the Future of Mobility Commission.
"Jim Farley and Carroll Shelby had a close friendship, probably because both believed that ambition, hard work and sacrifice were keys to success," said Joe Conway, co-CEO of Carroll Shelby International and CEO of Shelby American. "They often talked about pushing the performance envelope and leveraging new technologies. That philosophy can be seen at Ford today as it continues to launch world-class vehicles, increase profitability and chart a bold path forward under Farley's leadership. Everyone at Shelby is excited to work with Jim and his team toward a promising future together."
Farley has served in various strategic roles for Ford around the world and has also campaigned vintage Shelby Cobras, GT40's and Mustangs at venues across the world.
The "Carroll Shelby Spirit" award was designed to kindle a desire for excellence by recognizing people who achieve, the company said, and will be awarded to someone who displays exuberance, character and enjoys a high-octane lifestyle. The award is a bronze statue of a Shelby Cobra designed by Rick Hadley.