News
Ford Begins F-150 Lightning Production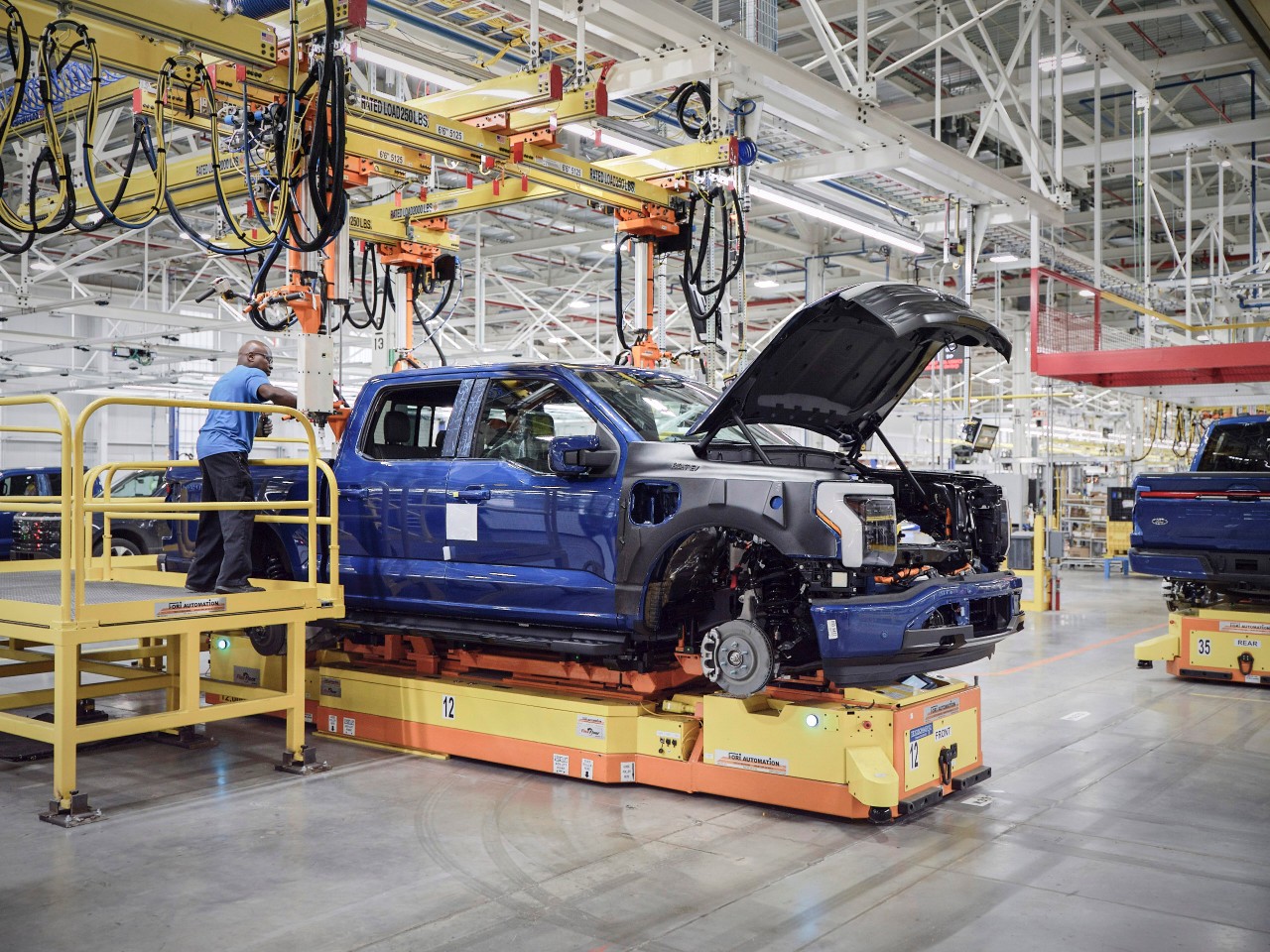 Ford has officially begun production of the all-new, electric F-150 Lightning pickup, the automaker announced.
Built at the Rouge Electric Vehicle Center within Ford's Rouge Complex, Ford received 200,000 reservations for the F-150 Lightning and is expanding the Rouge Electric Vehicle Center to ramp up production to a planned annual run rate of 150,000 in 2023, the company said. The company has invested a total of $950 million and created 750 jobs at the Rouge Electric Vehicle Center. Ford's investment in Michigan for F-150 Lightning alone now totals more than $1 billion, with 1,700 recently created jobs spread among five Ford plants in the state, including Van Dyke Electric Powertrain Center, where Lightning electric motors and electric transaxles are assembled, and Rawsonville Components Plant, where Lightning batteries are assembled.
"Today we celebrate the Model T moment for the 21st Century at the Rouge Electric Vehicle Center," said Ford Executive Chair Bill Ford. "The Rouge is where Ford perfected the moving assembly line, making it a fitting backdrop as we make history again. The stunning anticipation for F-150 Lightning is a credit to the work of our Ford engineers and designers, and the UAW team members who are building these trucks with pride."
"America's real transition to electric vehicles starts now," said Ford President and CEO Jim Farley. "F-150 Lightning is just the beginning of our ambitions for growth and leadership in digital, electric vehicles. We continue to expand our EV manufacturing footprint across the U.S., including the start of site preparation at BlueOval City, which will enable us to meet the ever-increasing customer demand for our exciting EV line-up."
The all-electric pickup has as much as 320 EPA-estimated miles of range, and Lightning customers will have access to the BlueOval Charge Network, a public charging network offered by Ford.
A highlight of the new truck is its lockable storage frunk, which has the ability to store 400 liters of cargo. The Mega Power Frunk doubles as a cooler – washable and drainable – with lighting to see in the dark. It also has 2.4 kW of exportable power. Combined with the power available from the 5.5-foot bed and cab, it brings the truck's Pro Power Onboard total to up to 9.6 kW from 11 power points.
The F-150 Lightning, together with a home integration system, can also power a house during an outage for three days and in time will be able to offer power back to the grid. It can also charge other electric vehicles, Ford said.
F-150 Lightning accelerates from 0 to 60 mph in the mid-4-second range with the extended-range battery, making it the fastest-accelerating F-150 yet, according to the automaker, and also has the most torque of any F-150 ever at 775 lbs.-ft.
Ford offers F-150 Lightning owners an optional BlueCruise hands-free driving experience on more than 130,000 miles of prequalified divided highways across the U.S. and Canada. F-150 Lightning will stay up to date through over-the-air software updates, called Ford Power-Ups.