News
Folks Awarded Off-Road Motorsports Hall of Fame Impact Award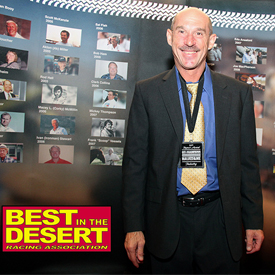 Best in the Desert co-owner Daryl Folks was recently awarded the Off-Road Motorsports Hall of Fame Impact Award. Folks was recognized for his commitment and dedication to the sport of off-road racing during the annual Hall of Fame induction ceremony. He was one of five finalists nominated.
Folks not only serves as co-owner of Best in the Desert but conducts work with Trac-On Trail Rides and the Nevada BLM. He and his brother, Bryan Folks, assumed the reigns of Best in the Desert after the untimely passing of their father, Best in the Desert founder Casey Folks, who died earlier this year.
"Under very difficult conditions, the Folks family along with the existing Best in the Desert staff assumed control of the series picking up where Casey left off leading the series to its best year ever," according to the company. "In addition, Daryl has been instrumental in working with the BLM and its RAC steering committee helping draft land use policy to the benefit of all off-roaders."
"I'm very honored to have been selected to win this prestigious award," Folks said. "In all honesty, however, this award belongs equally to my brother and the entire Best in the Desert staff. Without their hard work and dedication none of this would be possible.
"We are all doing our best to honor the legacy that my father established for Best in the Desert," Folks added. "Our future as a sport is tied to working with land use agencies to help them create land use policy that takes off-road recreation and racing into consideration. Fortunately the current land use managers are receptive to our input so it makes the effort worthwhile."
The Off-Road Motorsports Hall of Fame established the Impact Award as a way to recognize the next generation of off-road leaders and decision makers to insure that off-road racing remains viable for years to come. Other finalists for the award included Jimmy Lewis, Wayne Israelsen, Emily Miller and Craig Scanlon.