News
Final Jim Beattie STK/SS Memorial Race Set to Kick Off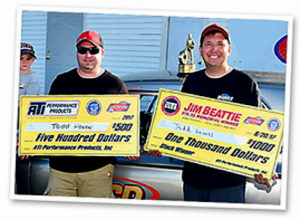 The fifth and final Jim Beattie Stock/Super Stock Memorial Race will be held during the NHRA Division 1 Pennsylvania Dutch Classic at Maple Grove Raceway from Sept. 26-29.
Beattie, an avid race fan, was the founder of ATI Performance Products. After serving in the US Navy, Jim opened a general transmission rebuilding business. Today, ATI produces race transmissions, torque converters, harmonic balancers and high-performance components.
Open to racers in Stock and Super Stock, ATI Performance Products will award $1000 to the winner, or the highest finisher, with an automatic transmission package in each class. Should an automatic car not Win or R/U, the highest finishing racer with an automatic and the decal will win the award. The award is not contingent on the use of ATI product, but racers must display the 2019 Jim Beattie Memorial Decal on each side of their car throughout the entire event. All other contingency requirements will apply per NHRA and ATI guidelines. Decals will be available during tech at the event.
The winners of the "Jim Beattie Stock / Super Stock Memorial Race" are eligible for ATI's standard Div. 1 Contingency, Bonus Div. 1 payment, and the $1,000 bonus. If the winner meets the normal contingency requirements, wins the race and the bonus, they will be taking home $1,600.
The "ATI Young Gun Award" will also be presented during the event. Maple Grove presents this award each year at the Dutch Classic. It will be awarded to the youngest and highest finishing racer in Stock or Super Stock. Drivers must be between 16 and 25 to be eligible. The winning driver will receive a trophy made by S&W and a check for $250.00.