News
Fel-Pro Gaskets Brand Turning 100 in July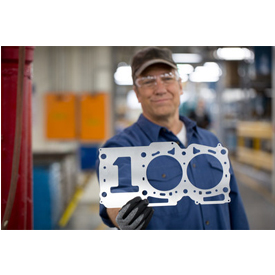 Fel-Pro Gaskets is celebrating its 100th anniversary this year. Fel-Pro is a brand of Federal-Mogul Motorparts.
The 100th anniversary celebration will span an extensive schedule of customer-focused activities culminating in an industry and community open house on July 21, at the Fel-Pro engineering, manufacturing and distribution complex in Skokie, Illinois.
"This anniversary is a celebration of the multiple generations of talented technicians, engine builders, racing teams, consumers and Fel-Pro employees who together have built a truly elite brand by demanding and delivering the very best for every sealing repair," said Mike Proud, vice president of marketing of the Americas for Federal-Mogul Motorparts.
Fel-Pro was founded July 5, 1918, in Chicago. The company became an innovator in the sealing category beginning with felt-based seals for the Ford Model T. By the early 1920s it had established one of the pivotal characteristics that continues to drive the brand's success today: a commitment to providing products that address the demands of the sealing repair environment, according to the company.
"Fel-Pro engineers are intensely focused on the real-world conditions facing technicians and other customers, whether they're working in a repair bay, machine shop or their own garage," said Craig Frohock, vice president of global sealing for Federal-Mogul Motorparts. "Our highly specialized gasket materials and problem-solving designs help each customer achieve a long-lasting seal they can rely on."
During the 1970s, Fel-Pro introduced its blue gasket materials and Blue Stripe design to visually differentiate its products.
Fel-Pro was acquired in 1998 by Federal-Mogul, which over the past 20 years has aggressively invested in new R&D and manufacturing resources to focus on the era of lighter-weight, higher-output, harder-to-seal engines. Federal-Mogul also invested millions of dollars in the equipment necessary to develop and manufacture modern multi-layered-steel (MLS) head gaskets, which have become the preferred technology for engine manufacturers, professional stock car and drag racing teams, engine builders, and automotive repair businesses, according to the company.
Another characteristic that has not changed is the brand's commitment to U.S.-based engineering and manufacturing, according to Fel-Pro. The more than 1,300 employees at the million-plus square-foot Fel-Pro complex in Skokie each day produce more than 325,000 gaskets, seals and other products and ship more than 120,000 complete, vehicle- and/or engine-specific sealing repair sets.