News
FCA to Remain Bondurant Driving School Partner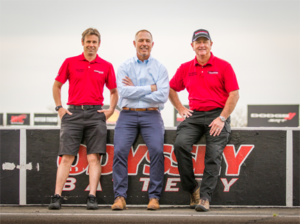 The new owners of the Bob Bondurant School of High Performance Driving have confirmed Fiat Chrysler Automobiles (FCA) will remain involved with the business.
Stig Investments Inc.-a group of entrepreneurs, racing enthusiasts and automobile collectors-agreed to purchase the performance racing school in March. After finalizing the deal this week, Stig Investments and FCA announced the school would continue as the Official Performance Driving School of Dodge//SRT.
The school's fleet of nearly 100 vehicles has exclusively been Dodge//SRT cars since 2015, including Dodge Challenger and Charger SRT Hellcat models, the 840-horsepower Challenger SRT Demon and the Viper ACR.
"In the past 30 days, we've solidified key pieces of the Bondurant experience that will ensure the success and growth of the school," said Bruce Belser, CEO of Bondurant School of High Performance Driving. Belser is one of three investors in the Stig Investments group and is a two-time Bondurant graduate.  "From securing the FCA partnership to retaining our passionate team members, including renowned instructors Mike McGovern and Danny Bullock, and signing a new 10-year lease on the property, we plan to continue to deliver the ultimate guest experience and a best-in-class work environment for employees."
"Our continued Dodge//SRT partnership with the Bondurant School of High Performance Driving gives our passionate customers the opportunity to learn how to get the optimum performance from their new vehicles in a controlled environment," said Mark Malmstead, head of Dodge//SRT marketing and communications. "Together, we have the perfect setting for a fully immersive driving experience like no other."