News
F1 Driver Donates Signed Race Suit to Charity Auction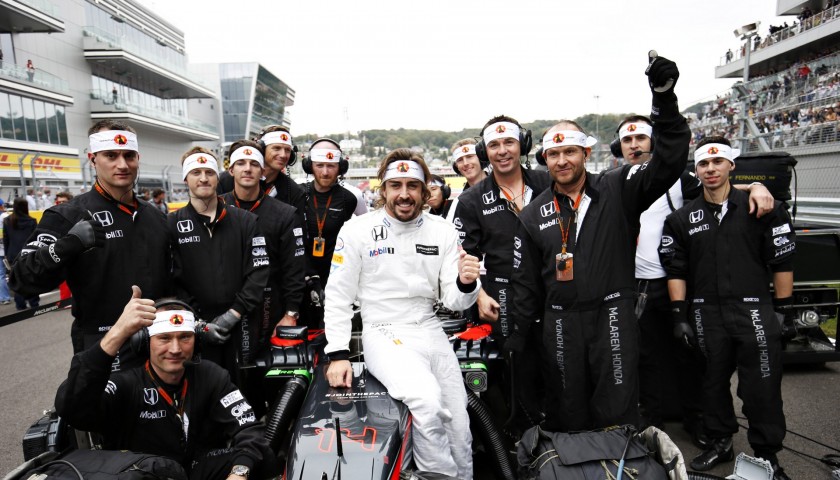 Two-time F1 champion Fernando Alonso has donated a signed race suit that he wore during the 250th F1 grand prix. CharityStars.com received the race suit, which is now being auctioned to raise funds for Croce Viola, a volunteer ambulance association based in Milan, Italy. The auction ends Dec. 14, 2017 at noon EST.
The race suit from the 2015 Russian Grand Prix in Sochi, where Alonso finished in 11th place, is personalized with his last name, initials at the base of the zipper, Spanish flag, and number. It has only been used by him. A label sewn on the inside of the suit collar certifies that it respects all the standards set by the FIA, motorsport's governing body. Additionally, the FIA symbol and code are sewn into the back.
Croce Viola provides emergency services to Milan and is entirely reliant on the goodwill of 120 volunteers, who give up their time to provide service 24 hours a day, every day. The group also delivers comprehensive first aid training programs to both the public and to companies, and recently put together an campaign to promote the importance of first aid among primary school children.
One of Croce Viola's volunteers also serves as Pirelli's head of car racing Mario Isola, who is present at every grand prix.
Click to see the auction.
CharityStars.com is a company founded in 2014 with the stated mission of helping charities raise money.