News
ExtremeTerrain Partners with Make-A-Wish on Wrangler Build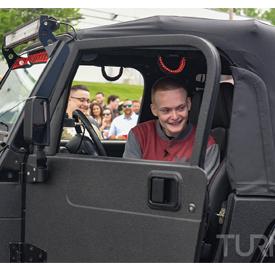 A Make-A-Wish recipient named Earl had his 2002 Wrangler Sport totally transformed with help from aftermarket supplier ExtremeTerrain. The Jeep was in massive need for repair. Many of ExtremeTerrain's vendors and affiliates-including Teraflex, Rugged Ridge, Malvern Collision, and M&A Upholstery-donated parts and labor to make Earl's wish for a dream Jeep Wrangler come true.
ExtremeTerrain Video host Ryan Huck played a critical role in the Jeep's transformation:
"I've worked on a lot of Jeeps, but this is by far my favorite TJ build," Huck said. "I had the pleasure of meeting Earl. He is a great guy and very deserving of this Jeep. I hope he has as much fun driving it as we had building it for him."
The project included a full frame-off restoration, with close to 500 man-hours invested, turning the Jeep into a fully-built, off-road capable machine.
The ExtremeTerrain team debuted the Jeep during its annual company block party in Paoli, Pennsylvania. Earl, who was in attendance, was astonished and unsure if it was the same Wrangler. He examined the TJ from top to bottom, pointing out all the upgrades and improvements.
"It's safe to say that Earl's wish came true," the ExtremeTerrain team stated in a news release, "and we were thrilled to play the role that we did for this deserving recipient."
Modifications on Earl's Jeep include:
Teraflex 5 inch Pro LCG Suspension System w/ Shocks
Teraflex Steering Stabilizer
Firestik CB Antenna & Mount
Rugged Ridge Heavy Duty Monster Complete Steering Linkage
Rugged Ridge Deluxe Carpet Kit with Adhesive
Fuel Wheels Revolver Black Milled Wheel (16×8)
JKS Front and Rear Adjustable Trackbar
Power Windows and Door Locks
Mickey Thompson Baja MTZP3 Radial Tire w/OWL, – LT315/75R16
Rubicon Express 17.5-inch CV Rear Driveshaft
Paracord Grab Handles, Red/Black
Barricade Fender Flares and Rock Sliders
VANCO 16-inch Big Brake Kit with BMB Pads
Barricade Front and Rear Floor Liners and Cargo Liner
Poison Spyder BFH Front Bumper w/ Competition Stinger & Shackle Tabs
Flowmaster Force II Stainless Steel Cat-Back Exhaust
Avital 5105L – Alarm/remote start
Poison Spyder RockerBrawler Rear Bumper w/ Tire Carrier
Flowmaster DBX Series Center Bullet Style Muffler (2.5-inches)
Pioneer Head Unit w/ JBL GT speakers and MTX Sub/Amp
Opar Jeep Wrangler TJ Front Gladiator Grille Cover Vader Grill w/ Mesh Inserts
Alloy USA Aluminum Differential Cover, Dana 30
Uniden CB Radio and dash mount
myTop Power Convertible Top
Rugged Ridge Aluminum Locking Gas Hatch Cover
Hyline Offroad 50-inch LED Light Bar Steel Mounting Brackets
Kleinn 230 Onboard Air System w/ Triple Train Horn
Rugged Ridge ¾-inch D-Shackles
Rugged Ridge Hood Light Bar Mount
Rugged Ridge Full Black Diamond Roll Bar Cover Kit
Rugged Ridge 9,500-pound, Waterproof Winch with Synthetic Rope
KC HiLiTES 50-inch C-Series C50 LED Light Bar
Rugged Ridge Tailgate Hinge Set
RedRock Snorkel
KC HiLiTES 20 inch C-Series C20 LED Light Bar
RT Off-Road Aluminum Valve Covers
Poison Spyder ¾-inch Amber LED Marker Lamp
KC HiLiTES 3-inch C-Series C3 LED Cube Light
Omix-ADA Full Engine Gasket Kit
Axial LED Halo Headlights w/ Angel Eye DRL & Turn Signals
Rugged Ridge Windshield Light Mounting Brackets
Optima Red Top Battery
Rugged Ridge LED Tail Light Set
Raxiom Bluetooth Light Switch and Accessory Controller
Omix-ADA Door and Tailgate Handles
Rugged Ridge Accessory Brake Light LED Ring
Oracle Bluetooth ColorSHIFT Underbody Rock Light Kit
Rugged Ridge Black Mirrors
Mishimoto Aluminum Performance Radiator
Crown Automotive Engine Mount Kit
Crown Automotive Engine Oil Pan
Crown Automotive Drive Belt Tensioner
Crown Automotive Water Pump
PA Performance Alternator
Omix-ADA Idler Pulley
Omix-ADA Rear 9×2.5 Drum Brake Service Kit
OPR Bump Stops
Black Acorn Lug Nut Kit
New Frame
New Fuel Lines