News
Expanded Book by ZZ Top Guitarist Features His Wildest Hot Rods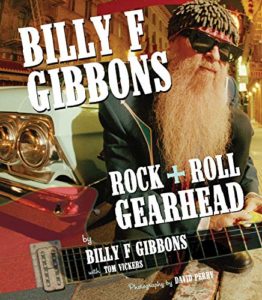 Expanded on the occasion of ZZ Top's 50th anniversary year, Billy F Gibbons: Rock + Roll Gearhead, throws wide Gibbons' garage and studio doors for an exclusive look at the exquisite vintage and way-out custom guitars and the influential hot rods and custom cars of the Grade-A Texas gearhead.
From the near-mythical '59 Les Paul sunburst known as "Pearly Gates" and the "Furry One" of MTV fame, to cars like the Eliminator, CadZZilla, and Kopperhed, the newly-expanded book features more than sixty guitars and fifteen astounding vehicles, all expounded upon by BFG himself and shown in commissioned color and artistic black-and-white photography.
Cars included in the expanded edition:
• Mexican Blackbird 1958 Thunderbird
• Quintana '50 Ford Custom
• El Camino Grocery-Getter custom
• Whiskey Runner '34 Ford Coupe
• '51 Willys Wagon
As with many rockers, Billy F Gibbons' jones for hot rods and customs is the stuff of legend. But beyond this bona fide bluesman's mastery of the six-string and unrepentant love for internal combustion is a noted collector whose own designs have manifested themselves in hundreds of mind-bending cars and guitars.
Click here to read more.