News
European Travelers Association Taps MAHLE for Diagnostics Tools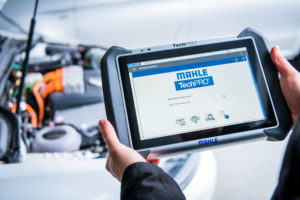 The Royal Dutch Touring Club has turned to MAHLE to help equip its 900 service vehicles with diagnostic tools. The Royal Dutch Touring Club is a travelers association based in the Netherlands that offers breakdown support to motorists.
The ability of MAHLE's diagnostics solutions to receive regular, automatic software updates was particularly persuasive for the European travelers association, since this allows them to be kept up-to-date at all times via Wi-Fi, according to MAHLE.
"With our diagnostic concept, we are taking a further step toward digitalization and connectivity and offering our customers real added value in terms of time savings, operability, and economic efficiency," said Olaf Henning, corporate executive vice president and general manager of MAHLE Aftermarket.
Diagnostics solutions from MAHLE recognize all error codes within an average time of 30 seconds, according to the company. The Linux-based systems communicate with all the modules fitted in the vehicle and report more than 54,000 detailed OEM error code descriptions. They store all the data protocols locally, thus offering subsequent output if required-without having to reconnect to the vehicle.
The systems can also be networked with other MAHLE service units in order to display functions such as the calibration of driver assistance systems or smart A/C service options, according to the company.
Diagnostic tools from MAHLE Aftermarket encompass all vehicle types and offer real-time updates.
Visit mahle-aftermarket.com for more information.