News
EPWI Names Vendor and Rep of the Year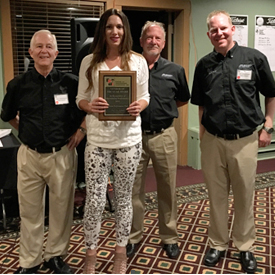 During the company's annual summer conference in Beaver Creek, Colorado, Engine & Performance Warehouse Inc. (EPWI) named SA-Gear as its 2018 Vendor of the Year; and Chris Schell of Maxima Racing Oil as its 2018 Representative of the Year.
President and CEO Sal Abdallah, Vice President of Operations (CFO) Magdee Abdallah, and Vice President of Sales and Marketing Steve Tucker were present to accept the award for SA-Gear. The annual Vendor of the Year award is presented to the supplier or manufacturer based on performance scores during the prior year in seven categories including distribution/sales policies, pricing policies, inventory, returns, labor claims, office support and shipping/packaging.
Chris Schell, Performance Auto Brand Manager for Maxima was present to accept the Representative of the Year award. The Rep of the Year is selected annually, on a rotating basis by region, using combined votes based on performance scores during the prior year in three categories: sales support, distribution philosophies, and timely and accurate follow-through.