News
EPA: Emissions Standards for Cars and Light Trucks Should Be Revised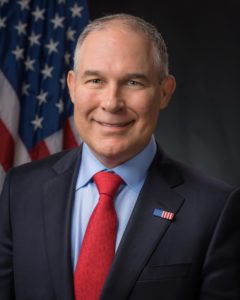 U.S. Environmental Protection Agency (EPA) Administrator Scott Pruitt on Monday announced the completion of the Midterm Evaluation (MTE) process for the greenhouse gas (GHG) emissions standards for cars and light trucks for model years 2022-'25. Pruitt's final determination is that current standards are not appropriate and should be revised, according to an EPA press release.
"The Obama Administration's determination was wrong," Pruitt said. "Obama's EPA cut the Midterm Evaluation process short with politically charged expediency, made assumptions about the standards that didn't comport with reality, and set the standards too high."
As part of the 2012 rulemaking establishing the model year 2017-'25 light-duty vehicle GHG standards, EPA made a regulatory commitment to conduct an evaluation of the standards for model year 2022-'25 vehicles no later than April 1, 2018. This evaluation would determine whether the standards remain appropriate or should be made more, or less stringent.
The Obama Administration provided its final determination on January 12, 2017, days before President Barack Obama left office. Since then, the auto industry and other stakeholders sought a reinstatement of the original evaluation timeline, so that the EPA could review the latest information, according to the agency.
EPA and the U.S. Department of Transportation announced a reestablishment of the Midterm Evaluation process in March 2017. EPA reopened the regulatory docket in August and asked for additional information and data relevant to assessing whether the GHG emissions standards remain appropriate, including information on consumer behavior, feedback on modeling approaches, and assessing advanced fuels technologies. EPA also held a public hearing on this topic.
Meanwhile, Pruitt on Monday also announced the start of a joint process with the National Highway Traffic Safety Administration (NHTSA) to develop a notice and comment rulemaking to set more GHG emissions standards and Corporate Average Fuel Economy (CAFE) standards.