News
Engine Pro Publishes New Performance Parts Catalog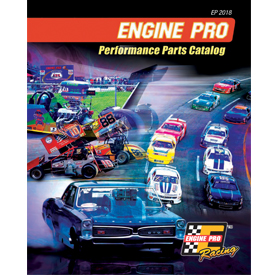 Engine Pro has published its latest performance parts catalog featuring hundreds of new applications and several new lines.
The 2018 catalog includes new parts and applications for GM LS engines and performance diesel engines as well as improved coverage on other lines. The 52-page printed catalog is available to engine professionals from any one of Engine Pro's 36 independent warehouses. It may also be downloaded from enginepro.com.
Also featured in the new catalog is the Nitro Black line, which is the designation reserved by Engine Pro for its premium high-end performance products. Many of these products incorporate technologies only available in the most advanced performance products available, according to the company.
In the 2018 catalog, the Nitro Black line has been expanded to include stainless steel nitrided race rings for LS Chevrolet and Chrysler Hemi engines, diesel performance valves, roller lifters, beehive springs and machined valve locks. This is in addition to the existing line of Nitro Black racing rings, valves and push rods.
Engine Pro performance parts are produced to exacting specifications, many in the U.S. Headquartered in Wheat Ridge, Colorado, Engine Pro is made up of nine independent engine parts distributors. The group operates 36 distribution centers serving machine shops, engine rebuilders and jobber customers throughout the United States and Australia.