News
Engine Pro Expands to Europe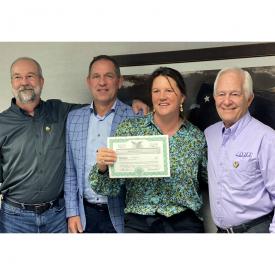 Engine Parts Group, Inc., also known as Engine Pro, has welcomed its ninth member shareholder to its group, expanding the engine parts network into three continents. The announcement of Wilmink Group's membership was made at Engine Pro's recent annual supplier meeting in Dallas, Texas.
Based in the Netherlands, Wilmink Group supplies engine parts to customers in more than 48 European countries. The company distributes stock replacement engine parts as well as performance parts for most automotive racing applications including sport compact, drifting, tractor pulling, powerboat racing and drag racing thru their Wilmink Performance division.
Represented at the meeting were Wilmink Group's owner and managing director Karlijn Wilmink and their sales and marketing director, Jaap Mensinga. Wilmink was presented with their EPGI ownership stock certificate signed by the Engine Pro board of directors. The latest member joins Engine Pro as its second international shareholder. Nason Engine Parts of Australia became Engine Pro's first international member in 2012.
Engine Pro board chairman, Paul Van Woensel says, "The Wilmink Group is an extremely well-run distributor organization providing strong marketing expertise to their customers in Europe and other international markets. We look forward to the mutual benefit this new relationship will bring."
The Wilmink Group will begin their official participation with Engine Pro on January 1, 2020 and with the group's 2020 programs.