News
EnerSys Hosting Motorsports Icons at 2019 SEMA Show
EnerSys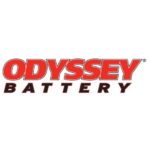 , a manufacturer of ODYSSEY batteries and energy solutions for industrial applications, has announced that several motorsports personalities will make an appearance at its ODYSSEY battery booth no. 24875 at the 2019 Specialty Equipment Market Association (SEMA) Show. The father/daughter racing duo of Brian and Hailie Deegan, X Games Gold Medalist Tanner Foust and the 2019 Indianapolis 500 Champion Simon Pagenaud will be among the individuals stopping by this year's booth. The SEMA Show will take place Nov. 5 – 8 in the Las Vegas Convention Center, Las Vegas, Nevada.
"Working alongside these key industry influencers over the years has not only been an honor and a privilege for our company but it's also helped to play an important role in the evolution of the ODYSSEY battery portfolio," said Alan Kohler, marketing manager at EnerSys. "With power demands ever increasing in today's vehicles, nobody knows performance better than these top-caliber racers. Their input and direction continues to assist us in developing innovative ways to take our ODYSSEY batteries to the next level of premium power."
Following is the confirmed list of scheduled appearances at the SEMA Show ODYSSEY battery booth no. 24875.
Tuesday, Nov. 5
10:30 a.m. – 11:30 a.m.  Brian Deegan, Lucas Oil Off-Road Racing Driver (LOORRS) and 14-time X Games Medalist and Hailie Deegan, Professional Stock Car Racing Driver
2 p.m. – 3:30 p.m. Tanner Foust, Americas Rallycross Driver and X Games Gold Medalist
Wednesday, Nov. 6
10 a.m. – 11 a.m. Simon Pagenaud, 2019 Indianapolis 500 Champion
2 p.m. – 3:30 p.m. Rutledge Wood, Car Enthusiast and NASCAR analyst for NBC Sports
Thursday, Nov. 7
10 a.m. – 11 a.m. Richard Petty, NASCAR, Motorsports, International Motorsports and Diecast Hall of Famer
1 p.m. – 2 p.m. Greg Adler, Lucas Oil Off-Road Racing Driver (LOORRS) and president & CEO of 4-Wheel Parts