News
EnerSys Commemorates ODYSSEY Battery's 25th Anniversary with Video Series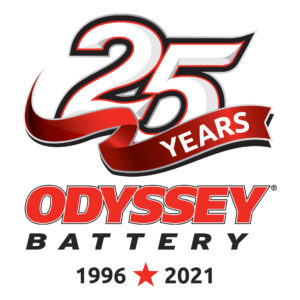 EnerSys, the manufacturer of ODYSSEY batteries, is paying tribute to the 25th Anniversary of ODYSSEY batteries with the launch of the "ODYSSEY Battery Journey" video series, the company announced.
Each video takes viewers along for the ride through the customer's personal journey using ODYSSEY batteries and illustrates the battery's diverse appeal across global demographics and applications, including Automotive/Truck, Powersports, Marine, Recreational Vehicles (RVs), Heavy Duty and Fleet Vehicles, the company said.
Click here to watch the first three videos.
The first three videos feature the following subjects:
Nic Ashby at Rockstar Performance Garage: Ashby opened Rockstar Performance Garage nearly a decade ago. He soon started installing ODYSSEY batteries in all his custom-built automotive and off-road vehicles, including his personal rig, the GRDLOC, and the team's most recent installation, the Cyberpunk 2077 Mustang.
Jim Marsden, Extreme Off-road Racer: Jim Marsden started Gigglepin 4×4 in 1997 at age 23 and began using ODYSSEY batteries in 2002. He now uses them for all his racing needs. Marsden has more than 50 titles and more than 80 podiums. In 2019, he became the first person to win the Croatia Trophy for a record three times.
Warfighter Made: Warfighter Made is an organization that adapts vehicles to accommodate the needs of service members and veterans who have sustained combat wounds, other injuries and illnesses. The custom vehicles also reflect the personalities of the people for whom they are intended. In addition to the custom vehicles, Warfighter Made provides recreational therapy to service members and vets in events that give them the opportunity to drive, and even race, off-road vehicles, which are also adapted to their needs and powered with ODYSSEY batteries.
"The range of applications and performance demands that ODYSSEY batteries handle enables them to deliver trustworthy and long-lasting service for every one of our customers including custom builders, racecar drivers and thrill seekers anxious to take their driving experience to the next level," said Dave McMullen, senior director of marketing, transportation & specialty at EnerSys. "ODYSSEY batteries are engineered to provide enough power to not only start engines in high-performance vehicles, but power accessories to enhance the experience of drivers and passengers. This video series was created to capture the steadfastness of ODYSSEY batteries, which are constructed to endure harsh conditions and extreme temperatures."