News
Electric Pressure Washers Can be Handy in the Shop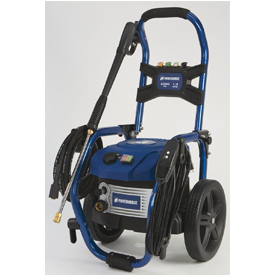 Northern Tool + Equipment has expanded its Powerhorse pressure washer product line with the introduction of two new electric units. According to the company, both units are equipped with 35-foot power cords to add flexibility to the cleaning range.
"The electric pressure washers bring legendary Powerhorse quality and power to give consumers an easy-to-use, versatile and nimble option for a variety of everyday jobs around the home," said John Bakke, senior vice president of merchandising for Northern Tool + Equipment.
The expanded line of electric pressure washers are primed for household cleaning of driveways, siding, bikes, trailers and much more. According to Northern Tool + Equipment, the pressure washers are also a quiet, compact, light, easy-to-store, and low-maintenance solution for consumers who don't need the major power of a gas-powered pressure washer or for those who don't want to worry about the mess or inconvenience of fuel.
The Powerhorse 2200 PSI Electric Pressure Washer is equipped with a digital controller to adjust pressure (1300, 1600, 1900 and 2200 PSI) for more precise cleaning across a variety of applications, according to the company. The washer comes with a 25-foot rubber hose and five brass quick-connect nozzles. The washer uses brushless motor technology that adds durability and is protected with a rugged aluminum roll cage frame with a folding handle for space-saving storage.
The Powerhorse 1800 PSI Electric Pressure Washer includes a 19-foot rubber hose, four brass quick-connect nozzles and a 1-liter capacity detergent tank, according to the company. Adding to the convenience is the onboard storage for its trigger handle, lance and spray nozzles, as well as a built-in reel to house the power cord, according to the company. The unit can operate in either a horizontal or vertical position, providing an additional convenience factor when encountering uneven terrain.
For more information, visit NorthernTool.com.