News
Educational Presentation Lineup at WRAPSTECH: The Science of Wraps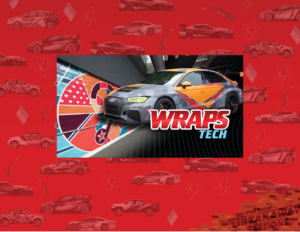 WRAPSTECH: The Science of Wraps takes place on Wednesday, Sept. 16, from 10 a.m. to 6 p.m. This online event covers everything about vinyl and wraps applications, including wide-format printing, inks, lamination, surface prep, maintenance, tools, installation and more.
In addition to online, interactive exhibits, there's a full slate of presentations with live chat, including An A-Z Vinyl Exploration panel discussion that kicks off the event at 10 a.m. Panelists include Justin Pate, Charity Jackson, John Duever, Adam Sumner, Mike Zick and Chad Parrish.
Presentations continue at noon throughout the rest of day, and include:
Design Tools for Vehicle Wraps
This presentation will cover paneling, vehicle templates, Adobe plugins, print & cut techniques and more that will assist anyone attending in setting up a better, faster workflow for vehicle wrap design.
Presented by Mutoh America Inc.
Inside 3 Top Wrap Shops
Join Matt Richart of Digital EFX for this Roland DGA presentation, in a behind-the-scenes look at three well known wrap shops – Digital EFX, NASCAR's Richard Childress Racing, and Proline Wraps. We'll take an inside look at the operation of each shop and hear from the experts, Matt Richart, Nick Woodward and Andrew Madrid, about how they started, run and grow their businesses.
Presented by Roland DGA Corp.
Learn from the Professionals at Epson and Avery Dennison to Get the Best Results!
When printing with the Epson SureColor S80600L, you must have the right wrap film to get the best results. Avery Dennison's CWI Trainer, Justin Pate will be showing some tips and tricks to help get the best results for all your wrap needs.
Presented by Epson America Inc.
Navigating Your Financing Options in Any Climate
This educational and informational session is designed to provide you with critical information to not only weather any climate but strengthen the way you run your business. Now more than ever, cash reserves are important. Financing may be the answer to ensure you can keep the cash you need on hand. Learn what you need to know to apply, the best ways to navigate the process, what constitutes a "good deal" for your business and more.
Presented by CIT
HEXperience Interior Decoration – Fully Customize and Maximize Your Profits
HEXperience is a complimentary interior decoration service to help you fully customize your projects and maximize your profits. Perfect for office spaces, retail stores, hotels and even homes – furniture, cabinets, walls, tables, etc.
Presented by Hexis
It's a WRAP!
If you have a wide format printer, but you are not interested in vehicle wraps and fleet graphics, you should absolutely watch this presentation. It's time to wrap your brain around the possibilities of wrapping; from cars to caskets and everything in between. If you can print it, you can wrap it and we will show you how.
Presented by Digital Technology Group Inc.
Direct to Surface Digital Painting Technology Alternative vs. Conventional Vinyl Wrap Process
An introduction to the direct to vehicle surface digital painting technology as an alternative to the conventional vinyl wrap process for commercial vehicles. Includes a discussion of production time, operational costs, capital costs, durability, quality, removal, surface complexity, and environmental impact.
Presented by Ricoh Digital Painting Company, Ltd.
Growth Opportunities from the Pandemic
The pandemic has had a significant impact on business, no doubt. So where does one go for growth? Join us for this 60-minute webinar to find out how you can grow from pandemic applications made possible by HP PrintOS. Not only this, but find out how you can monitor your operation, remotely, from your phone.
Presented by HP Inc.
Learn How to Earn More from Your Existing Customers
This session, with The Advertising Specialty Institute's experienced sales executives, will feature ways promotional products can be used by graphics shop owners interested in growing their business.
Presented by Advertising Specialty Institute/ASI
For a full schedule, list of exhibitors, and to register for free, click here.