News
Edelbrock's 2018 Performance Catalog Now Available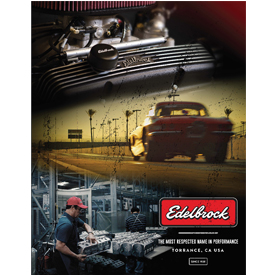 Edelbrock has released its 2018 Automotive Performance Catalog featuring 246 full-color pages of performance parts and accessories.
The catalog can be ordered free of charge at edelbrock.com/catalog. It is also available in a digital media format that can be viewed online or with a smart phone/tablet, including all iPhone- and Android-based devices.
"This year we added 10 more pages to the catalog, as we expanded our Max-Fire Ignition line and crate engine offerings," said Steve Whipple, vice president of sales and marketing. "We're also excited to add the AVS2 to our already popular carburetor line. The AVS2 is truly the best performing street carburetor on the market. The new annular booster design improves drivability right where the enthusiast wants it."
For more information, call 888-288-2892 or visit edelbrock.com.