News
Edelbrock Launches Apparel Collection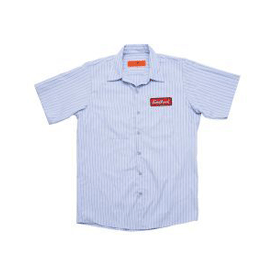 Edelbrock has released a new line of apparel celebrating the company's heritage and its charge forward philosophy. The new line includes hats, T-shirts, jackets and sweatshirts featuring Edelbrock's logo and vintage racing imagery.
Edelbrock's new Lifestyle Apparel & Accessories collection features four distinct lines including, Power Speed, Lineage,Signature and Jr. Fun Team. The Power Speed line was created with the future in mind, designed for up-and-coming, fashion-forward racers with a trace of retro styling, according to Edelbrock. The Lineage line harkens back to Edelbrock's beginnings through vintage styling and the company's classic branding.
Edelbrock's Signature line brings those values to life by offering consumers the opportunity to wear a piece of American history, according to the company.
"The Edelbrock brand is a piece of both automotive and American history. Through our new apparel collection, we'll have the ability to interact with people from all walks of life," said Don Barry, CEO of Edelbrock. "This line was created not just for automotive enthusiasts, but also fashion-forward individuals who believe in innovative, American-made brands."
In addition to the four apparel lines, the Edelbrock Lifestyle collection also includes accessories such as belts, totes, socks, patches and air fresheners.