News
Edelbrock Dispels Emissions Compliance Myths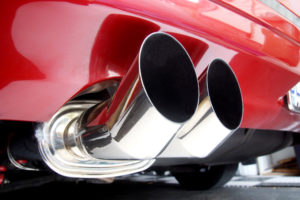 Edelbrock, a manufacturer and distributor of aftermarket performance parts, was an early pioneer in emissions testing of aftermarket high performance parts. In the 1970s, Edelbrock established an emissions lab at its El Segundo location, which was used to demonstrate to the California Air Resources Board (CARB) that aftermarket performance parts didn't negatively affect emissions. Since then, Edelbrock has continued its investment in its emissions testing capabilities, as well as partnering with groups like SEMA to demonstrate that Edelbrock and others in the industry meet required emissions performance.
Over the years Edelbrock has identified many myths associated with emissions compliance. Here are the top five:
Myth: The EPA and CARB won't go after small "mom-and-pop" installation shops.
• Fines for small shops have been issued for as little as $475 and as large as hundreds of thousands.
Myth: Declaring that a part is "Race-Only" (e.g. advertisement, label) is enough to evade emissions compliance.
• EPA and CARB will ask the manufacturer or distributor for proof that there are enough race cars to use the parts that were sold.
Myth: "49 state legal" means that components can be sold in any state except California.
• There are states that follow California emissions rules. All states have the option of following California emissions rules and can change status at will. A "49 state legal" emissions status doesn't exist.
• Even if the states don't follow California rules, they must follow EPA rules.
Myth: Altering vehicle ride height, changing the drive axle ratio, or changing wheel size on an emissions-controlled vehicle doesn't affect emissions compliance.
• Altering vehicle ride height, changing the drive axle ratio, or changing wheel size is not allowed unless the configuration has an EO, or is EPA Legal in states that don't follow California's emissions rules.
• CARB and EPA believe that by raising a vehicle, the frontal area of the vehicle increases and causes an increase to wind resistance, which may cause higher emissions.
• CARB and EPA consider changes to the drive axle ratio or changes to the tire size may affect transmission shift points, which might cause higher emissions during the emissions test procedures.
Myth: Emissions compliance is not needed for vehicles older than 1976.
• Although vehicles older than 1976 may not be emissions tested on a regular basis, emissions compliance is still required on pollution-controlled vehicles. Note that vehicles that were manufactured before emissions control regulations were imposed can run non-compliant parts. These vehicles are considered "uncontrolled vehicles."
• Uncontrolled vehicles are defined as:
– 1965 and older U.S. manufactured California Certified vehicles
– 1967 and older U.S. manufactured Federally Certified vehicles
– 1967 and older foreign manufactured vehicles