News
Earl Owen Repeats as AAM Member of the Year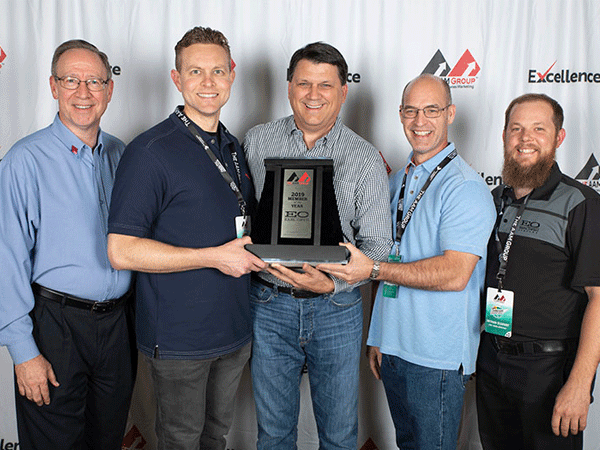 The AAM Group honored Earl Owen Co. as 2019 Member of the Year at its May 14-17 Annual Membership Meeting in Kingsport, Tennessee.
"Earl Owen Company is AAM's first-ever back-to-back winner of this annual award," said Tim Odom, AAM president. "Earl Owen consistently performs at high levels across each of the five areas of member contributions-product line compliance, purchase growth, marketing program support, active participation/communication, and group orders-and won out over this year's strong field of contenders."
AAM selects its member of the year based on five key metrics: active participation, growth as a percentage, marketing participation, participation in group buys, and product line compliance.
Richey "Trey" Owen,  Earl Owen vice president of purchasing and marketing, accepted AAM's custom trophy and an exclusive painting commissioned from automotive artist Jim Caswell-see the painting by clicking the thumbnail below.
"This year we were shocked to receive this esteemed honor," Owen said. "Two years in a row really speaks to the hard work and dedication our staff puts in day after day. We don't come to work thinking, 'let's try to win an award at the end of the year,' but rather, 'let's take care of our customers daily.' Surrounding ourselves with quality AAM distributors from around the country has helped us refine our business and processes as we strive to be one of the best service providers in the automotive aftermarket. We look forward to many more years of successful growth and sales."
The AAM meeting also saw awards given to the winners in individual categories. Recipients included National Performance Warehouse for active participation, Winner's Circle  for growth as a percentage, and  Dix Performance  for Marketing Participation. Competition Specialties Inc. won two awards for product line compliance and participation in group buys.