News
E3 Spark Plugs to Feature Don Schumacher Racing Stars at PRI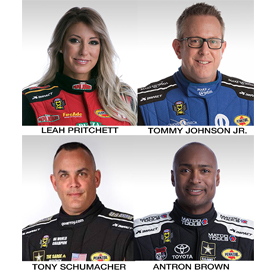 E3 Spark Plugs will host top NHRA drag racers from Don Schumacher Racing at the Dec. 7-9 PRI Show in Indianapolis. The racers will sign autographs in the E3 Spark Plugs booth (No. 5173) on Dec. 7 and 8.
Don Schumacher Racing utilizes E3 products, which include DiamondFIRE spark plugs and performance ignition products, announces four
Don Schumacher Racing is the largest and winningest race team in NHRA history. Tony Schumacher is the son of NHRA legend Don Schumacher and an eight time NHRA Top Fuel world champion holding Top Fuel's record of 83 event titles. Antron Brown has won three Top Fuel world championships, Leah Pritchett joined Don Schumacher Racing in 2016 and won her first Top Fuel national event that year; and Tommy Johnson Jr. is one of 15 drivers to have won events in both Top Fuel and Funny Car and one of 18 drivers in NHRA history to qualify No. 1 in both Top Fuel and Funny Car.
All four racers run E3 spark plugs in their 10,000 horsepower Top Fuel dragsters to maximize the fuel burn for more power and better fuel efficiency, according to the company.
"We knew many attendees would be thrilled to have the chance to meet these racers and have their pictures taken and gather autographs" said Rob Fisher, E3 vice president of motorsports. "So, after reaching out, they were happy to oblige, and we look forward to welcoming the crowds to our booth."
Autograph Signing Schedule
Tony Schumacher and Antron Brown at noon-1p.m. on Dec. 7
Leah Pritchett at 3-4 p.m. on Dec. 7
Tommy Johnson Jr. at 3-4 p.m. on Dec. 8
For more information, visit e3sparkplugs.com.