News
Dynamat Partners with Maxlider Brothers Customs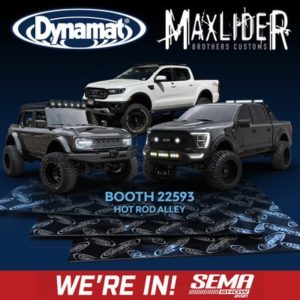 Dynamat, an acoustic solutions company, and Maxlider Brothers Customs, a Ford truck customization company, have formed a partnership to use Dynamat products to remove unwanted noise from Maxlider's builds, the companies announced.
In addition to the Maxlider custom builds being fitted with Dynamat products, Dynamat will be offering custom kits for the Ford truck line and are currently working with Maxlider on development of the kits.
"I couldn't be more excited about this partnership with Maxlider. They are one of the leading brands in their industry and, like Dynamat, have an unapologetic focus on quality and making your vehicle a better vehicle. Dynamat has been focused on removing unwanted noise and heat from vehicles for over three decades now, and given the level of detail that Maxlider puts into each and every Ford build, this just feels like a natural fit," said Michael Good, president of Dynamat.
"We have used Dynamat for years in the vintage Broncos and classic Ford trucks we build. Our customers appreciate having the ultimate product in heat and noise protection. We are even more excited to partner with Dynamat to enhance our line of 2021 Ford Broncos and trucks," said Erik Maxlider, president of Maxlider Bros.