News
Driver Wins $10,000 as First Member of Holley EFI 7-Second Club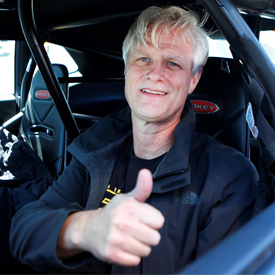 Geoff Turk is the first racer to to qualify for Holley EFI 7-Second Club for NMCA Factory Super Cars. At the wheel of his sinister Blackbird '15 Dodge Challenger Drag Pak, Turk cracked the eight-second barrier with a historic 7.996-second run in the first qualifying session of the first NMCA event of the season, Muscle Car Mayhem in Bradenton, Florida.
"I knew the car had a seven in it, and I could tell it was a good run because it was so smooth," said Turk, who pocketed $10,000 for his record-setting blast-$5,000 for being the first in the 7-second zone and a $5,000 bonus for using Holley EFI to do it. "A year ago, no one would've thought I'd be the one to do this, and if it wasn't for Holley EFI, I wouldn't be. There's no way I would have run in the 7s without it."
NMCA Factory Super Car competition is the ultimate platform for drag racing's late-model factory hot rods and showcases Dodge Challenger Drag Paks, Chevy COPO Camaros, and Ford Cobra Jet Mustangs competing heads-up on the quarter-mile. The power for Turk's history-making run came from a Tony Bischoff/BES Racing Engines powerplant, a Whipple supercharger, and a complete Holley EFI system.
"The smartest decision I made was to run Holley EFI, and I really mean that," he said. "It can just do so many things and gives you so much control over everything."
Turk shot off the starting line with a 1.20 60-foot time, reached the 330-foot mark in 3.33 seconds, and blasted through the half-track speed traps at 137 mph. When he crossed the finish and the 7.996 flashed on the scoreboard, he was traveling in excess of 170 mph.
"This whole thing is beyond my wildest expectations," Turk said. "It's been a long journey. BES builds a great engine, and Robin Lawrence from Holley helped me so much. Holley EFI just does what you expect it to do, and the smooth, easy-to-control timing retard was a huge part of that 7-second run. So many people were a part of this. At the track, it's pretty much just my wife [Sandy] and me most of the time, and I almost wasn't going to go to this race because she couldn't go. I didn't decide for sure that I was going until two hours before I left, and now I've got the 10 grand from Holley."
Four more spots are available for membership in the exclusive Holley EFI 7 Second Club. The next four drivers to break into the 7-second zone during qualifying or eliminations for an NMCA race will receive a $1,000 Holley product certificate and a special jacket to commemorate their achievement.